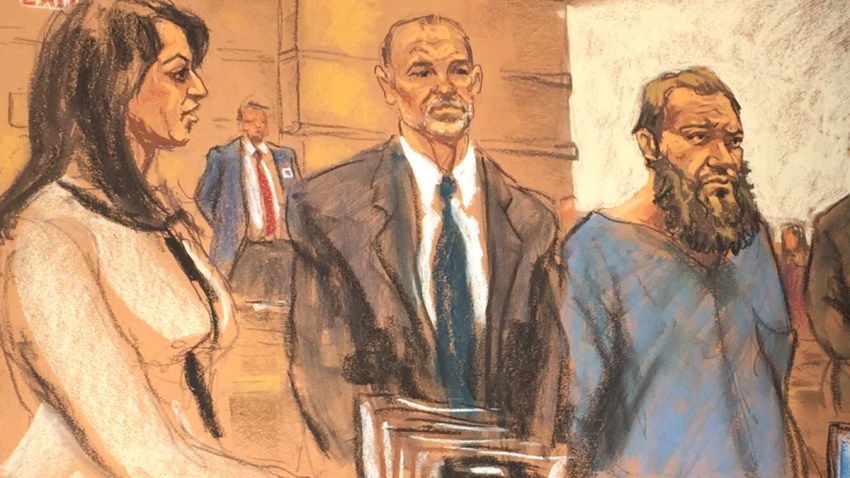 An American citizen considered to be a significant al-Qaida operative was brought to New York City Thursday to stand trial on terror charges for allegedly conspiring to kill U.S. military personnel and civilians in various attacks overseas and at home, law enforcement and intelligence officials say.
Muhanad Mahmoud al Farekh, who was born in Texas, was brought to Brooklyn from Pakistan to face charges of providing material support for terror, officials say. He allegedly plotted with other al-Qaida operatives to kill American soldiers and citizens overseas, and is associated with terrorists who plotted to bomb the New York City subway system in 2009 and another target in Britiain.

Farekh's public defender, Shawn Maher, did not present a package for bail at his client's Brooklyn federal court hearing Thursday, but he did reserve the right to do so at a later date. He also requested medical attention in prison for his client but did not specify the issues.

A criminal complaint filed in January and unsealed in federal court Thursday alleges Farekh and two alleged co-conspirators whom he met while the three were students at the University of Manitoba agreed in December 2006 to travel to Pakistan together with the intent to train for violent jihad against U.S. military personnel operating in Afghanistan. Court papers say a witness told investigators Farekh and the two alleged co-conspirators often watched jihadist videos, including online lectures by the now deceased al-Qaida leader Anwar al-Awlaki.

Several months later, the three sold all of their belongings and left without telling their families, the complaint says. Once they got to Pakistan, they called a friend in Canada and said they intended to become martyrs, according to court documents.

In September 2008, one of Farekh's accused co-conspirators allegedly provided weapons and military training at an al-Qaida camp in Pakistan to Najibullah Zazi, Zarein Ahmedzay and Adis Medunjanin, three men who planned to carry out a suicide attack in the city's subway system in 2009. Medunjanin was convicted in the subway plot and sentenced to life in prison; Zazi and Ahmedzay pleaded guilty and are awaiting sentencing. The alleged co-conspirator faces indictment in that case.

If convicted, Farekh faces up to 15 years in prison.
"Today's arrest demonstrates that there is no escape from the long reach of our law for American citizens who seek to do harm to our country on behalf of violent terrorists," U.S. Attorney Loretta Lynch said.
News of al Farekh's extradition comes the same day as two Queens women were arrested on federal terror charges after they allegedly plotted to plant homemade explosives in the United States.