What to Know
6 inches of snow blanketed much of the tri-state by early afternoon Friday

The weekend looks downright frigid after the storm moves out

Storm Team 4 is also tracking potential major snowfall to the region next Tuesday
A winter storm system dropped half a foot of snow on parts of the tri-state Friday, bringing a bone-chilling cold front that was expected to keep temperatures below freezing all weekend.
NYC Deals With Snow and Braces for More
All that snow will freeze solid overnight, Storm Team 4 says, and there will be plenty of black ice and slippery spots, especially on untreated surfaces, on both Saturday and Sunday morning. Gusty winds will put wind chills in the single digits and teens all day Saturday, with little improvement on Sunday.
Kids and Pets Playing in the Snow, Because Why Not?
After the storm moved out by Friday evening, Middletown, New York had seen 6 inches accumulate, while Port Jervis and Mastic Beach, along with Monroe, Connecticut, had 5 inches. Seven inches covered the ground in Orange County's Montgomery. The five boroughs saw less snow, with Central Park getting about 2 inches.
Nearly 300 flights were canceled at Newark, JFK and LaGuardia as a result of the snow Friday. Alternate side parking was suspended in New York City Friday to facilitate snow removal efforts, and NJ Transit said full systemwide cross-honoring was in effect Friday, allowing customers to use their ticket or pass across rail, bus or light rail. Meanwhile, Metro-North warned customers to be wary of slippery platforms.
Snow Falls on the Tri-State Area Friday
Storm Team 4 is tracking another winter system with the potential to dump 6 inches of snow or more on the tri-state area early next week.
New York City has seen significantly less snow this winter compared to last year. It has snowed 20.5 inches so far this season compared to 32.3 inches by this time in 2016, an amount that was buoyed by one of the largest snowstorms in the city's history last January.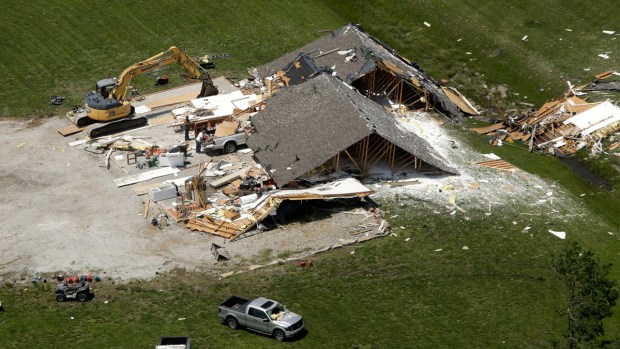 Extreme Weather Pics: 2019 Sees Surge in US Tornado Activity