What to Know
Mayor Bill de Blasio and Gov. Cuomo announced Tuesday a proposal to transform the MTA and create funding streams for the agency

This marks first time de Blasio endorsed congestion pricing, which is part of the 10-point proposal

The 10-point proposed plan, according to the city and state leaders, will also completely reorganize the agency
Mayor de Blasio and Gov. Cuomo announced Tuesday a proposal to transform the MTA and create funding streams for the agency, which includes the joint endorsement of congestion pricing — marking the first time de Blasio has supported the idea.
The 10-point proposed plan, according to the city and state leaders, will also completely reorganize the agency.
The proposal also calls for the implementation of congestion pricing, which will be supplemented by an internet sales tax and, if marijuana legalization takes place, a percentage of a resulting cannabis excise tax would also help fund the agency.
Overall, the 10-point proposed plan calls for:
The MTA to develop a reorganization plan to make the agency "more efficient and effective," according to de Blasio and Cuomo. Currently – NYCTA, LIRR, Metro-North, MTA Capital Construction, MTA Bus, SI Railway – operate as six separate entities. However, the proposal calls for all common functions such as construction management, legal, engineering, procurement, human resources and advertising will be consolidated and streamlined in a central operation. The restructuring plan will be completed by June.
Cohen: I Am a Fool
A congestion pricing financing model to be set no later than December 2020, which marks the first time de Blasio publicly endorsed this. The plan looks to install electronic tolling devices on the perimeter of the Central Business District (CBD) defined as streets south of 61st Street in Manhattan. The FDR Drive will not be included. Tolls would vary on the time of day. There would also be exceptions from the tolls, like emergency vehicles. Additionally, the tolls would be supplemented with revenues of a new internet sales tax from sales in New York City and a percentage of a cannabis excise tax.

Transit Riders Outraged Over Woman's Refusal to Move Handbag
The MTA fares for public transportation must be controlled in future years through cost containment actions and improved management. The proposal stipulates that the agency should operate with a fare increase limited to "inflationary" 2 percent per year.
All MTA Board appointments will be updates so that all terms end with the appointing elected official's tenure.
The state will work with the MTA, city and district attorneys to develop an enforcement strategy to avoid fare evasion.
The MTA will undergo an independent audit to determine their actual assets and liabilities, which should be completed no later than January 2020.
The proposal also calls for the Capital Plan to be reviewed by a committee of transportation, engineering and government experts who have no existing financial relationship with the MTA.
The MTA will have all major construction projects and planned projects pursued as "design build," which will call for the MTA will do preliminary drawings only to the point necessary for bidding the project in a private sector competition that will be based on cost and timing of the project. This point also calls for the MTA to be more aggressive in debarring failed contractors.
The MTA will immediately expedite the completion of the Subway Action Plan including: signal repair; water management; station enhancements; rail welding; friction pad installation; increased refurbishment efforts; and other service improvements.
The governor and mayor will work closely with the Legislature to effectuate provisions in this framework.
Top News: Community Grieves for Latest School Shooting, More
Following the announcement, MTA acting chair Fernando Ferrer said he supports the plan.
"I strongly endorse this proposal from Governor Cuomo and Mayor de Blasio that addresses the fundamental challenges the MTA faces – a need for organization-wide reform, cost cutting, additional revenues, and increased efficiency. This proposal is a holistic cure for much of what ails the MTA, and I hope to see it enacted swiftly for the benefit of our 8.5 million daily customers," Ferrer said in a statement.
Additionally, the ride-share company Uber said in a statement they support the congestion pricing proposal as did Fix Our Transit — a coalition of transit experts and advocates and leaders of environmental, business and labor groups.
Passerby Throws Molotov Cocktail Into Occupied Truck: NYPD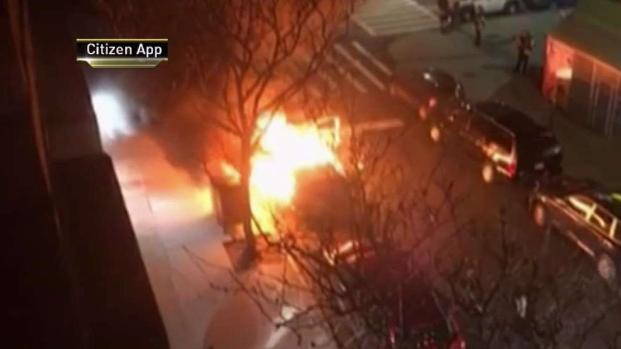 However, not everyone is on board with congestion pricing. On Tuesday, taxi drivers rallied outside the governor's offices in the city, demanding to be exempt for the surcharge that went into affect for taxis and for-hire drivers.
On Wednesday, Senate Majority Leader Andrea Stewart-Cousins and particularly six democratic senators from Long Island, issued a statement opposing congestion pricing: "We cannot support the proposal in its current state and are happy to meet with any party to address these concerns. We remain ready to help craft a formula that Long Island commuters will find advantageous."
However, though congestion pricing has seen opponents, none was more notable than de Blasio who has been against the idea for the five years he's been mayor — that is, until Tuesday.
"I've come to the conclusion there is no way to achieve what we need without congestion pricing," de Blasio said.
The mayor said he got promises — in writing — that the money raised from congestion pricing will go to mass transit.
"In the past some of the money meant to help our subways and buses got moved to other uses. This plan will have a legally binding lockbox to protect against that," he said.
The proposed plan is still in doubt with four more weeks to go until legislators vote on the budget.