What to Know
The tri-state area will face brutal wind chills through the day

A light wintry mix will change over to rain Tuesday night into Wednesday morning

We're in store for another temperature shift, with the mercury expected to soar to the 50s by mid-week
Temperatures were expected to warm slightly Wednesday after days of brutally frigid weather.
Storm Team 4 says another system approaching the tri-state will touch down on Tuesday. Highs will reach the upper 30s by the afternoon -- relatively comfortable compared to the near-zero wind chills reported over the weekend and on Monday.
Though most of the day will be dry, some showers will be possible before the end of the evening commute. A light wintry mix or snow is possible before a complete switch to rain Tuesday night into Wednesday morning, according to Storm Team 4. Snow will stay in chillier areas further inland.
Temperatures will do a complete 180 on Wednesday as milder air moves in along with rain -- highs are forecast to surge into the 50s. It will be windy at times throughout the day as the storm rolls through.
The work week will end on a high note with temperatures hovering around the low 50s and a small chance of a spotty shower.
Chopper 4 Captures Glorious Sunrise on Frigid Morning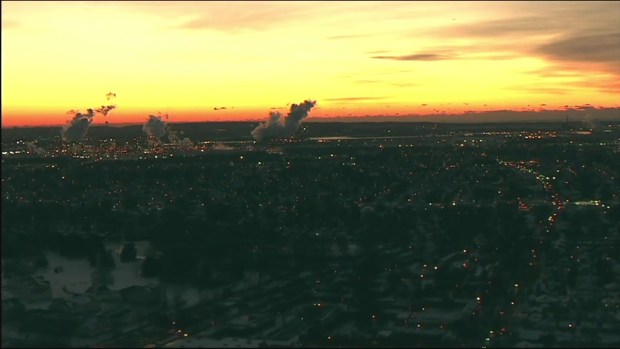 It was ice-cold for the third straight day Monday as tri-state residents continued to dig out from the weekend storm that saw more than a foot of snow dumped on parts of Long Island.
By noon, the mercury had only climbed to 20 degrees in Central Park -- a comparatively balmy 22 degrees at LaGuardia -- though forecasters said blustery winds made it feel closer to the single digits or below.
Extreme Weather Photos: Twister Touches Down on North Texas
Heavy snow fell last Saturday and Long Island got the most of it, with 12.5 inches reported in Orient and almost 11 inches in Mattituck, according to the National Weather Service. Rego Park, Queens, was also buried under 7.5 inches, the NWS said. Central Park reported almost 5 inches. JFK airport reported the most snow in New York City with close to 8 inches, the NWS said.
Tri-State Residents Dodge Slick Spots as Slush Turns to Ice
In New Jersey, 5.4 inches of snow fell at Newark Airport, the NWS said. The Jersey Shore got the most snow in the state, with 8.5 inches in Barnegat. In Connecticut, nearly 8 inches fell in Old Saybrook.