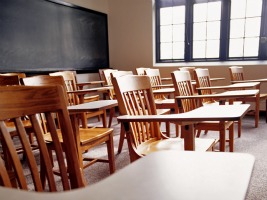 The federal Environmental Protection Agency has found elevated levels of toxic chemicals known as PCBS leaking from lighting fixtures at three city schools housed in the same building.

The finding marks the latest in a series of discoveries of the potentially dangerous substances in schools throughout the five boroughs.

In the most recent case, the agency took 14 samples from light fixtures at P.S. 206, P.S. 37 and P.S. 112 and found that 12 were above the regulatory limit. The three schools are located at 508 E. 120th St.

Department of Education spokeswoman Marge Feinberg says corrective action was being taken to replace the lighting ballasts, the devices that regulate electric current for fluorescent lights.

Four other schools have previously been found to have elevated levels of PCBs, which were widely used in building materials until they were banned in the 1970s. They have been linked to cancer and other health problems.

The toxins are at the center of a dispute between the EPA and the city. Up to two thirds of city schools use the kind of flourescent lights that could potentially leak PCBs. The EPA wants all fixtures that use PCBs replaced, not just the ones that are already leaking.

The city claims replacing all of the fixtures could cost upwards of $1 billion and says that the non-leaking fixtures pose no immediate threat.

Should EPA inspections reveal PCB leakages, the city says corrective action will immediately be taking on the problematic fixtures.
Copyright AP - Associated Press