What to Know
Two men and a 17-year-old all from Queens have been arrested and charged in connection with the sex attack and robbery of a woman, cops say
The woman was attacked as she was leaving a church service Tuesday night in Queens, police say
The woman screamed out a falsehood, "I'm HIV positive! You can't," which likely kept her from being raped, according to the church's pastor
Two men and one 17-year-old have been arrested and charged in connection with the sex attack and robbery of a woman as she left a church service in Queens earlier this week, police said Friday morning.
Brandon Walker, 20, of Queens, a 17-year-old from Queens, and Julisses Ginel, 19, of Queens were all charged, police said.
Walker and the 17-year-old are charged with first-degree robbery, first-degree criminal sex act, first-degree criminal use of a firearm, sex abuse, and second-degree menacing, according to police. Ginel is facing the sames charges, except for menacing.
Police are searching for a fourth man, 20-year-old Isaiah Shorter, in connection with the attack.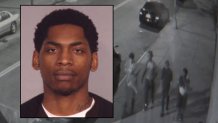 The suspects were picked up based on surveillance video retrieved from the Jamaica crime scene, police said.
Members of the Celestial Church of Christ marched arm-in-arm to the scene of the assault Thursday and offered a prayer for the victim.
The 50-year-old victim was walking to the subway Tuesday after attending Celestial Church of Christ on Liberty Avenue when two men put a gun to her head and forced her to the ground behind a garbage truck, police have said.
At least two other men joined, and they made the victim perform a sexual act on them, according to police.
[NATL-NY] In Pictures: Archive Photos Show Scenes From the 1977 New York City Blackout
They stole her purse, which contained money, cards and a cellphone, police said. The suspects weren't happy with the amount of money the woman had and they ordered her to take her clothes off, according to police.
The desperate woman screamed out a falsehood, "I'm HIV positive! You can't," which likely kept her from being raped, according to pastor Kehinde Oyetund.
[NATL] Top News Photos: Pope Visits Japan, and More
The suspects fled the scene and the victim ran back to the church, screaming out for the pastor.
"I'm downstairs in the office and I heard her screaming," Oyetund said. "She was crying and shivering."
The victim was then able to call authorities.
Oyetund said she's doing as well as she can be given the nature of the attack.
Top Tri-State News Photos
Many women who belong to the church are terrified to walk the streets alone. Others are so afraid they've stopped attending services altogether.
The church has reached out to the woman who was attacked to support her and let her know she's not alone.