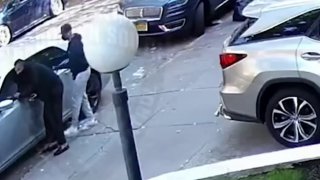 Two men apparently threatened another man, possibly with a gun, before stealing bags of jewels worth more than $1 million from the trunk of his car in Brooklyn Friday, according to police officials.
The men allegedly grabbed bags of jewels from the trunk of a man's car in Borough Park, on 47th Street between 14th and 15th avenues, in the middle of the day.
Surveillance video released by the Boro Park Shomrim showed just how quickly the whole incident went down. The two suspects can be seen reaching inside the driver's side window of a parked car, which is when the victim was told to open the trunk, police said.
In the back of the sedan were a pair of black duffel bags containing assorted jewelry, with a price tag that investigators said was just shy of $1.2 million. Police said that the pair then took off in a black sedan with temporary New Jersey plates.
The whole heist lasted all of just 30 seconds. No injuries were immediately reported.
The robbery is similar to one from over the summer, when a woman told NBC New York she had a 70-pound bag of jewelry worth more than $1 million stolen as well.
There is no indication the two crimes are connected.
The NYPD says its investigation is ongoing.
Copyright NBC New York