Paladino Takes to State Airwaves and Plays Defense and Offense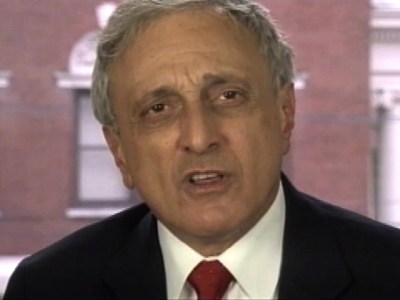 Mad-as-hell gubernatorial candidate Carl Paladino took to the airwaves across the state to take aim at all of his opponents -- specifically the New York Post and Andrew Cuomo.
Republican Paladino bought three minutes of airtime on TV stations statewide -- although none in New York City -- Thursday as polls showed his support plummeting in the race for governor against Democrat Cuomo.
The Buffalo businessman started off by addressing the blow up he had with Post reporter Fred Dicker last month. At the time, Dicker wanted to know what evidence Paladino had to back up allegations he'd made that Cuomo had an extramarital affair in the past -- and Paladino then accused Dicker and the Post of harassing his family.
"Hi I'm Carl Paladino and I want to talk to you about what happened last week," the candidate begins. "I'm a builder not a politician -- when somebody went after my ten-year-old daughter, I got angry."
After defending his actions in the dust-up, Paladino used the rest of his time complaining about the culture of corruption in Albany -- and then goading Cuomo into debating him and some of the other more fringe candidates at an upcoming debate.
This campaign must be about bigger issues, not affairs of divorces, because our state is in a death spiral," said Paladino. "Andrew stop the political posturing and Albany games, come out and debate with all the candidates -- why do you want to exclude the only African-American candidate, and the only woman candidate, and Green Party candidate?"
He concluded with, "I just don't understand, come out and debate like a man."
Afterward, a Paladino campaign chairwoman Nancy Naples appeared to make a plea for "emergency" donations to his cause.
It's unclear if Paladino's prodding of Cuomo worked or whether it was just after the fact. At nearly the same time as the ad was being broadcast, the Democrat's people sent out a statement saying that the State Attorney General had already agreed to participate in a debate taking place later this month at Hofstra University.
"Andrew Cuomo accepted the Newsday/News 12 invitation to debate yesterday afternoon," Benjamin Lawsky, General Counsel of Cuomo 2010, said in the statement. "We look forward to a vigorous debate of the issues that matter to New Yorkers. To say that the Andrew Cuomo has not agreed to debate is demonstrably false and misleading."
Cuomo's people also pointed out that Paladino, in fact, hadn't yet responded to the Hoftra debate organizers. The Paladino campaign later confirmed that he would be part of the debate.
The debate is scheduled to take place on Monday Oct. 18 at 7 p.m.
Also scheduled to attend the debate are former madam Kristin Davis (the Anti-Prohibition Party), former Black Panther (and current NYC councilman) Charles Barron (the Freedom Party), Howie Hawkins (the Green Party), Warren Redlich (the Libertarian Party), and Jimmy McMillan (the Rent is too Damn High Party).