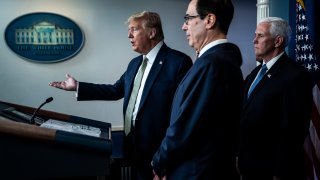 President Donald Trump weighed in Wednesday on concerns that professional athletes and others among the well-connected are receiving priority testing for coronavirus, according to NBC News.
The president was asked about the issue at a news conference Wednesday, a day after the Brooklyn Nets announced three of its players who showed no symptoms were among an unknown number of team members tested for the coronavirus. Four tested positive for the virus, including the three who were asymptomatic, the team said.
"How are nonsymptomatic professional athletes getting tests while others are waiting in line and can't get them?" NBC's Peter Alexander asked Trump. "Do the well-connected go to the front of the line?"
"No, I wouldn't say so," the president said. "But perhaps that's the story of life. That does happen on occasion, and I've noticed where people have been tested fairly quickly. "
Coronavirus Pandemic
Full coverage of the COVID-19 outbreak and how it impacts you