New York City raised its COVID alert level to high on Tuesday, less than 24 hours after warning of the possibility, as a fifth pandemic wave fueled by the most contagious COVID subvariants yet tighten their grip on the metro area and the nation.
The five boroughs had been in a "medium" COVID alert state since May 2 after passing a critical infection rate threshold -- 200 new daily cases per 100,000 residents over a rolling seven-day period. The upgrade to "high" alert status means the COVID hospitalization rate also hit a key benchmark -- 10 new admissions per 100,000 residents on a rolling basis. Both are based on current CDC community guidelines.
At the time health officials announced the change to medium alert, the rolling hospitalization rate was 6.8 per 100,000 residents, while the rolling new case rate was 218.22. Both rates have steadily been increasing since -- to 10.2 and 308.51.
By borough, Staten Island (396.73) and Manhattan (352.43) are fueling case increases, with Queens (340.35), Brooklyn (293.53 ) and the Bronx (204.84 ) all reporting lower -- but escalating compared with previous days -- new case rates per 100,000 residents.
In terms of hospitalizations, the Bronx's Hunts Point ZIP code has the highest rolling rate right now at 50.1 hospitalizations per 100,000 residents, city data shows, even though the borough still has the lowest rolling transmission rate in the city.
Queens' Bayside and Manhattan ZIP codes from Hell's Kitchen to the Upper East Side and Greenwich Village also are seeing high hospitalization rates, relatively speaking.
Notably, a fair share of hospital admissions labeled as COVID-19 involve people who weren't admitted for that reason in the first place, meaning their diagnoses may never have been detected if they hadn't sought treatment for another, unrelated cause.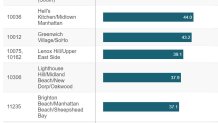 More than half of people hospitalized with COVID statewide (52.5%) didn't have the diagnosis listed as a reason for admission, according to state data. In New York City, the share is even higher (56.7%). That means COVID infections in more than half of the NYC hospitalized patients may not have been detected had nothing else merited medical attention. And that, experts say, is good news in terms of COVID severity.
It's time to get back to the protocol that works, they say, not to panic.
"Now is the time to double down on protecting ourselves and each other by making choices that can keep our friends, neighbors, relatives and coworkers from getting sick," NYC Health Commissioner Dr. Ashwin Vasan said in announcing the transition.
"As a city, we have the tools to blunt the impact of this wave, including distributing tests, masks and promoting treatments," he added. "Getting back to Low Risk depends on everyone doing their part and if we follow guidance, our forecasts anticipate this wave's peak will not last long. What we do now can make all the difference."
Tuesday's change marks the second time this month -- and the second time ever that the city has upgraded its COVID alert status, though it was only debuted as part of Mayor Eric Adams' overarching pandemic plan when he took office earlier this year.
The switch doesn't automatically trigger any new COVID mandates. Those would be considered only if the alert level reached "very high," which is the highest of the four tiers, health officials say.
That said, the health department issued a new mask advisory Monday, even before the official switch to a high COVID alert level, urging all New Yorkers to mask up indoors regardless of vaccination status for the time being.
Specifically, residents are asked to use high-quality face masks -- like KN95 and KF94 masks and N95 respirators -- when indoors and in public settings, including at grocery stores, building lobbies, offices, stores and other shared spaces where individuals may interact (think restrooms, hallways, meeting areas).
The advisory conveys special urgency around face coverings for people who are at high risk of severe illness and death from COVID, namely those who are older than 65 or who are not vaccinated, city health officials say.
Anyone not eligible for vaccination due to age or some other reason is urged to avoid crowded settings and non-essential gatherings, particularly indoor ones.
The developments come as every one of New York state's 62 counties is poised to be considered at high- or medium- community level COVID risk by the CDC at the agency's next update. That should come by Tuesday night.
The Bronx had been the lone county considered low risk by the CDC for the last few days but with the transmission rate topping 200 new daily cases per 100,000 residents, according to the city, the change should be reflected on the CDC map in hours.
Ultimately, experts and public health officials agree that the infection rate alone means far less than hospitalization and death trends.
Despite the modest pressure increase hospitals are experiencing from this latest wave, the burden is meager compared to the one imposed earlier this year, during omicron's peak in January. It's an even smaller fraction of the one that threatened to upend the entire state's healthcare system -- and that of America's -- back in April 2020.
And daily deaths, the other most critical COVID metric from a public health perspective, have remained largely stable if not on a consistent decline. That, in part, is a product of high vaccination rates and community-based COVID tools -- from face coverings to communication, testing and treatment options like Paxlovid you can use from home.
The transition to high COVID alert status, officials say, is an aggressive, cautionary effort to ensure no similar scenario to April 2020 happens in New York again -- ever.
For now, the overall message remains the same: Get boosted if you haven't, stay home if you're sick, get tested regularly and wear face masks in crowded settings, especially if you're more prone to COVID infection or complications from the disease, officials say.
Treatments are available via same-day delivery so talk to your doctor if you test positive or call (212) COVID-19 if you don't have a provider. Learn more about the next federal round of free COVID tests -- each household gets up to eight -- here.
Copyright NBC New York