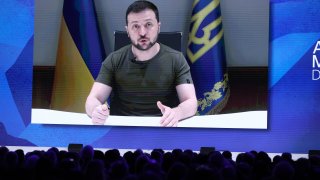 This was CNBC's live blog tracking developments on the war in Ukraine on Monday. See here for the latest updates. 
Ukraine is set to be top of the agenda at the World Economic Forum in Davos on Monday, as business leaders gather at the annual event. Ukrainian President Volodymyr Zelenskyy addressed the summit via video link on Monday.
Notably this year, Russian politicians, business leaders and academics are absent from the event.
Over the weekend, Russia continued its push into Ukraine's eastern Donbas region with heavy strikes on numerous locations, including Severodonetsk — a strategic target as forces attempt to push through from Donetsk to Luhansk.
Meanwhile, a Russian soldier was sentenced to life in prison in the conflict's first war crimes trial. As the war drags on, the United Nations said that more than 6.5 million Ukrainians have become refugees.
Turkey urges Sweden to alleviate its security concerns about the country's bid to join NATO
Turkey's President Recep Tayyip Erdogan called on Sweden to take "concrete steps" to ease Turkey's security concerns regarding Sweden's bid to join NATO, the Associated Press reported.
"We can in no way ignore the fact that Sweden is imposing sanctions against us," Erdogan said, according to the AP. "Turkey's rightful expectations concerning (an end to the) support to terrorism and sanctions must be met."
Turkey has said it opposes Sweden's application to join NATO, saying the country supports the Kurdistan Workers' Party, or the PKK – a Kurdish Marxist separatist movement that has been fighting Turkish forces on-and-off since the 1980s.
The PKK is classified as a terrorist organization by Turkey, as well as by the U.S., Canada, Australia and the European Union.
— Chelsea Ong
World Food Program chief presses billionaires 'to step up'
The head of the U.N.'s World Food Program is telling billionaires it's "time to step up" as the global threat of food insecurity rises with Russia's war in Ukraine, saying he's seen encouraging signs from some of the world's richest people, like Elon Musk and Jeff Bezos.
Agency Executive Director David Beasley built upon a social media back-and-forth he had with Musk last year, when the Tesla CEO challenged policy advocates to show how a $6 billion donation sought by the U.N. agency could solve world hunger.
Since then, "Musk put $6 billion into a foundation. But everybody thought it came to us, but we ain't gotten any of it yet. So I'm hopeful," Beasley told The Associated Press at the World Economic Forum in Davos, Switzerland, where some of the world's biggest elites and billionaires have gathered.
"I don't know what it's going to take," he said of Musk. "We're trying every angle, you know: Elon, we need your help, brother."
Musk and Bezos didn't immediately respond to emails or other messages seeking comment.
— Associated Press
EU will likely reach a Russia oil embargo deal 'within days,' German economy minister says
The European Union will likely agree to an embargo on Russian oil imports "within days", German Economy Minister Robert Habeck told broadcaster ZDF.
Habeck warned, however, that an embargo would not automatically weaken the Kremlin as rising prices were enabling it to rake in more income while selling lower volumes of oil.
Therefore, one consideration was to no longer pay "any price" for oil, but to agree on upper limits, he said. For that to work, however, many countries would have to get on board.
— Reuters
Pentagon says Biden would decide whether to send U.S. troops to guard embassy in Kyiv
Chairman of the Joint Chiefs of Staff U.S. Army Gen. Mark Milley declined to detail any plans to send American servicemembers into Ukraine to bolster security at the U.S. embassy in Kyiv.
Milley said that the decision of whether to reintroduce U.S. troops into Ukraine would be up to President Joe Biden. Milley's comments follow a Wall Street Journal report that mentioned potential plans to send special forces to Kyiv to guard the newly reopened U.S. embassy.
Milley added that while there are currently no U.S. troops inside of Ukraine, the Pentagon has increased its military presence in neighboring NATO countries. Milley said that there are approximately 102,000 American servicemembers in Europe, up from about 78,000 troops in the region last year.
— Amanda Macias
Some 20 countries commit new security aid for Ukraine, Pentagon chief says
U.S. Defense Secretary Lloyd Austin said that some 20 countries had announced new security assistance packages for Ukraine during a virtual meeting with allies that was aimed at coordinating arms for Kyiv.
The countries that announced new packages included Italy, Denmark, Greece, Norway and Poland, Austin told reporters following a meeting of the Ukraine Defense Contact Group. Denmark would provide a harpoon launcher and missiles to defend Ukraine's coast, Austin said.
"Everyone here understands the stakes of this war," Austin said.
— Reuters
Artist paints flowers and butterflies around bullet and shrapnel holes in Bucha
Canadian artist Ivanka Siolkowsky paints flowers and butterflies around the many bullet and shrapnel holes in the war-torn suburb of Bucha, Ukraine.
Siolkowsky is of Ukrainian descent and left Toronto at the beginning of the Russian invasion to help with refugees at the Polish border. She eventually volunteered to help in Bucha.
She painted her first flower around a bullet hole after speaking to a resident who said, "The bullet holes in my fence remind me of all that I've lost," which gave her the idea.
As Russia concentrates its attack on the east and south of the country, residents of the Kyiv region are returning to assess the war's toll on their communities.
The towns around the capital were heavily damaged following weeks of brutal war as Russia made its failed bid to take Kyiv. 
— Getty Images
'Never have I been so ashamed of my country': Russian diplomat quits over Ukraine invasion
A Russian diplomat quit over his country's invasion of Ukraine, calling it "not only a crime against the Ukrainian people but also, perhaps, the most serious crime against the people of Russia."
"Never have I been so ashamed of my country as on Feb. 24 of this year," wrote Boris Bondarev, a counselor in Russia's mission to the United Nations in Geneva, in an email to other diplomats there.
"Those who conceived this war want only one thing — to remain in power forever, live in pompous tasteless palaces, sail on yachts comparable in tonnage and cost to the entire Russian navy, enjoying unlimited power and complete impunity," wrote Bondarev.
Bondarev wrote that during his 20 years in Russia's Foreign Ministry, "the level of lies and unprofessionalism" has increased, but in recent years "has become simply catastrophic."
"Today, the Ministry of Foreign Affairs is not about diplomacy. It is all about warmongering, lies and hatred."
— Dan Mangan
More than 6.5 million Ukrainians have become refugees from Russia's war
More than 6.5 million Ukrainians have become refugees and moved to neighboring countries since Russia invaded Ukraine in late February, the UN Refugee Agency estimates.
More than 3.5 million of those refugees have relocated to Poland, according to data collected by the UN Refugee Agency.
"The escalation of conflict in Ukraine has caused civilian casualties and destruction of civilian infrastructure, forcing people to flee their homes seeking safety, protection and assistance. In the first five weeks, more than four million refugees from Ukraine crossed borders into neighbouring countries and many more have been forced to move inside the country," the agency wrote.
— Amanda Macias
Ukrainians line up for release of new stamp marking the sinking of Russian warship Moskva
Hundreds of people queued at Kyiv's central post office for a new Ukrainian postal service stamp marking the sinking of the Russian warship Moskva.
The new stamp declares: "Russian warship… DONE! Glory to the nation!" It follows the success of a recent stamp that says, "Russian warship, f--- you."
After Russia retreated from areas around the Ukrainian capital, signs of normal life have returned to Kyiv. Residents have taken advantage of shortened curfew hours, businesses reopening, and foreign countries promising to return their diplomats.
— Getty Images
Bipartisan U.S. senators introduce resolution supporting Finland and Sweden's NATO membership
A bipartisan group of U.S. senators introduced legislation in support of Finland and Sweden joining the NATO alliance.
"As Majority Leader, I commit to moving their acceptance into NATO swiftly through the Senate and expect broad bipartisan support. The people of Ukraine continue to fight bravely against Russian aggression and every democracy across the globe has an obligation to stand with Ukraine," Senate Majority Leader Chuck Schumer, D-N.Y., said in a statement.
"Both nations' robust defense funding means their accession would meaningfully bolster our pursuit of greater burden-sharing across the alliance. I fully support the Senate providing its advice and consent as quickly as possible," Senate Minority Leader Mitch McConnell, R-Ky., added in his own statement.
The resolution calls on all NATO members to move rapidly to complete their ratification processes. It also recognizes that Finland and Sweden have surpassed NATO qualifications and that both countries have much to contribute to and gain from NATO.
Last week, President Joe Biden pledged to work with Congress — which has to ratify U.S. approval of NATO bids — and the other 29 members of the world's most powerful military alliance to swiftly bring Sweden and Finland into the group. 
— Amanda Macias
Starbucks is exiting Russia after 15 years
Starbucks announced that it will exit Russia, permanently shuttering the 130 licensed cafes it had in the country.
The market accounted for less than 1% of the coffee chain's revenue in 2021. The company suspended all business activity on March 8, which included temporarily shuttering all of its Russian cafes. It opened its first location in the country in 2007.
Starbucks said it will pay its nearly 2,000 Russian workers for six months and help them transition to new opportunities outside of the coffee chain.
-- Amelia Lucas
UN says at least 3,930 killed in Ukraine since start of war
The United Nations has confirmed 3,930 civilian deaths and 4,532 injuries in Ukraine since Russia invaded its ex-Soviet neighbor on Feb. 24.
The Office of the U.N. High Commissioner for Human Rights said the death toll in Ukraine is likely higher, because the armed conflict can delay reports.
The international body said most of the civilian casualties recorded were caused by the use of explosive weapons with a wide impact area, including shelling from heavy artillery and multiple launch rocket systems, as well as missiles and airstrikes.
— Amanda Macias
Joining NATO a 'big shift' for Sweden and Finland, minister says
Joining the Western military alliance NATO is a big step for both countries, Sweden's minister of finance, told CNBC at the World Economic Forum.
"Sweden has been a non-aligned country for 200 years ... [but] taking in this new security situation in Europe and Russia's war against Ukraine ... has made us turn a new page," Mikael Damberg told CNBC's Steve Sedgwick in Davos, Switzerland.
Describing Finland and Sweden as "sister countries," Damberg said it would have been dangerous for the countries to diverge and take different paths. In effect, he said, once Finland's mind was made up about applying to join NATO, which it formally announced last week, Sweden's position was also decided.
Russia threatened "retaliatory steps" against the countries after the announcement, and has since cut off gas supplies to Finland (ostensibly because it refused to pay for the gas in rubles) but Moscow has also sought to play down the expected NATO enlargement.
"We are prepared, we're not afraid," Damberg said, saying Sweden was ready to act if it faced any retaliation from Russia.
— Holly Ellyatt
Russian soldier sentenced to life in prison in first war crimes trial
A Russian soldier was sentenced to life in prison on Monday for killing an unarmed civilian, in the first war crimes trial since Russia invaded Ukraine.
The verdict concludes days of proceedings in a Kyiv courtroom and could set the precedent for multiple other prosecutions for alleged atrocities committed during the conflict.
Sgt. Vadim Shyshimarin, 21, pleaded guilty to violating the laws and customs of war under a section of the Ukrainian criminal code after he admitted to shooting an unarmed 62-year-old man in the head in a village in northeastern Ukraine in the early days of the war.
The verdict takes effect in 30 days and can be appealed during that period. The soldier will remain in custody until the verdict becomes final.
— NBC News
'Enormous' amount of work needed to rebuild Ukraine, Zelenskyy says
Ukraine's President Zelenskyy has called on the global political and business elite to take part in the rebuilding of the country once the war has ended.
"The amount of work is enormous, we have half a trillion dollars' worth of losses ... we need to rebuild entire cities and industries," he said, saying countries and businesses helping to rebuild the country could have "patronage" over certain cities and sectors.
Zelenskyy said he hoped countries would come forward with offers for reconstruction at the Ukraine Reform Conference that's being held in Lugano in Switzerland on July 4-5.
— Holly Ellyatt
Western support for Ukraine was needed back in 2014, Zelenskyy says
Ukraine's President Zelenskyy has once again thanked the Western world for its support of Ukraine in the runup to, and during the conflict with Russia, but has said that more help was needed back in 2014, when Russia first annexed Crimea from Ukraine.
"Russia started its war against Ukraine back in 2014. We are grateful for that support [from the West] but if that happened back then, immediately — that unity, that pressure on governments and on companies — would Russia have started this war? I'm sure the answer is also no."
Addressing the World Economic Forum in Davos, Ukraine's leader called for the complete withdrawal of businesses from Russia and that international sanctions should be at their maximum level, calling for a complete Russian oil embargo and a barring of all Russian banks from the financial system.
"There shouldn't be any trade with Russia," Zelenskyy said.
— Holly Ellyatt
Russia's 'brute force' must be stopped, Ukraine's President Zelenskyy tells Davos
Ukraine's President Volodymyr Zelenskyy has told the World Economic Forum that Russia is using "brute force" to subjugate Ukraine and that the world is at a "turning point."
"History is at a turning point ... This is really the moment when it is decided whether brute force will rule the world," he said. "If so, there is no need for further meetings in Davos," he said.
Brute force, he said, "seeks nothing but the subjugation of those it wants to subdue ... and it does not discuss but kills, and Russia does that in Ukraine just as we speak today."
Addressing the forum via videolink, Zelenskyy said "Russia has become a state of war criminals." Russia has been widely accused of war crimes in Ukraine, following the apparently deliberate targeting of civilian buildings and infrastructure although Russia denies it has targeted such locations.
— Holly Ellyatt
Russian forces zero in on Severodonetsk in Donbas, Ukraine says
Russian forces have been targeting Ukraine's defenses in the Donetsk area in a bid to push through to neighboring Luhansk in the eastern region of Donbas, Kyiv said in its latest military update Monday morning.
The General Staff of Ukraine's Armed Forces said Russia had been concentrating its efforts toward Severodonetsk, a city above and between Donetsk and Luhansk, conducting assault operations in the Toshkivka area to the south of the city.
In its post on Facebook, Ukraine added that Russia had intensified the use of its aircraft to destroy civilian infrastructure in the areas of active hostilities.
Ukraine said its forces have repelled 11 enemy attacks in the Donetsk and Luhansk areas in the last 24 hours. Six Russian tanks, 10 units of armored combat vehicles and six units of enemy vehicles had been destroyed, it added.
Air defence units shot down one Orlan-10 UAV and an enemy Su-25 aircraft in these areas, Kyiv said. CNBC was unable to verify the information in the report.
— Holly Ellyatt
Ukraine top of the agenda in Davos as business leaders gather
Russia would normally have its own "house" at the World Economic Forum as a showcase for business leaders and investors.
This year the space on the dressed-up main street in Davos has been transformed by Ukrainian artists into a "Russian War Crimes House", portraying images of misery and devastation.
Russia has denied allegations of war crimes in the conflict.
Ukraine is top of the agenda for the four-day meeting of global business leaders, which kicks off in earnest on Monday with a video address by Ukrainian President Volodymyr Zelenskyy.
"This is the world's most influential economic platform, where Ukraine has something to say," Zelenskyy said in his daily video address on Sunday night.
As the WEF meeting emerges from a coronavirus pandemic hiatus of more than two years, a deferral from January to May means that attendees are surrounded by spring flowers and verdant slopes rather than navigating icy streets.
But not only the weather is different in 2022, with Russian politicians, executives and academics entirely absent.
Russian institutions such as its sovereign wealth fund, state banks and private companies have in previous years thrown some of the most glitzy parties, serving black caviar, vintage champagne and foie gras.
They even hired Russia's most prominent musicians and pop stars to perform for top chief executives.
— Reuters
Russia presses Donbas offensive as Polish leader visits Kyiv
Russia pressed its offensive in Ukraine's eastern Donbas region Sunday as Ukrainian President Volodymyr Zelenskyy said the outcome of the grueling conflict would determine whether his country's fate lies with the West or under Moscow's domination.
After declaring its full control of a sprawling seaside steel plant that was the last defense holdout in the port city of Mariupol, the Russian military launched artillery and missile attacks in Ukraine's industrial heartland, seeking to expand the territory Moscow-backed separatists have held since 2014.
In a Saturday night video address to the nation, Ukrainian President Volodymyr Zelenskyy described the situation in the Donbas as "really hard" but "the fact that we are able to say this on the 87th day of a full-scale war against Russia is good news."
"Every day that our defenders take away from these offensive plans of Russia, disrupting them, is a concrete contribution to the approach of the main day. The desired day that we are all looking forward to and fighting for: Victory Day," Zelenskyy said.
Zelenskyy's remarks came as Poland's president prepared to meet with him to support Ukraine's goal of becoming a candidate for European Union membership, an issue set to be decided at an EU summit in late June.
As the West rallies behind Ukraine, Polish President Andrzej Duda made an unannounced visit to Kyiv and on Sunday became the first foreign leader to address the Ukrainian parliament since the start of the war.
— Associated Press
As Russia intensifies push for Donbas, Ukraine rules out ceasefire
Ukraine ruled out a ceasefire or concessions to Moscow as Russia intensified an offensive in the eastern Donbas region and stopped providing gas to Finland.
After ending weeks of resistance by the last Ukrainian fighters in the strategic southeastern city of Mariupol, Russia is waging what appears to be a major offensive in Luhansk, one of two provinces in Donbas.
Russian-backed separatists already controlled swathes of territory in Luhansk and the neighboring Donetsk province before the Feb. 24 invasion, but Moscow wants to seize the last remaining Ukrainian-held territory in Donbas.
"The situation in Donbas is extremely difficult," Ukrainian President Volodymyr Zelenskyy said in his nightly address. The Russian army was trying to attack the cities of Sloviansk and Sievierodonetsk, but Ukrainian forces were holding off their advance, he said.
Earlier, Zelenskiy told local television that while the fighting would be bloody, the end would come only through diplomacy and that the Russian occupation of Ukrainian territory would be temporary.
Zelenskyy adviser Mykhailo Podolyak ruled out agreeing to a ceasefire and said Kyiv would not accept any deal with Moscow that involved ceding territory. He said making concessions would backfire on Ukraine because Russia would hit back harder after any break in fighting.
"The war will not stop (after concessions). It will just be put on pause for some time," Podolyak, Ukraine's lead negotiator, told Reuters in an interview in the heavily guarded presidential office.
"They'll start a new offensive, even more bloody and large-scale."
— Reuters
Read CNBC's previous live coverage here:
Ukraine rules out ceasefire and ceding territory; Polish president addresses Ukrainian lawmakers
Copyright CNBC