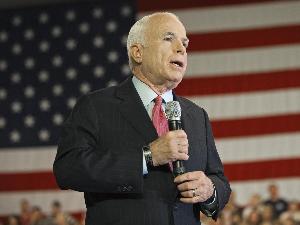 With just days before the vice-presidential announcements, the political conventions and the final sprint to Election Day, Republican Sen. John McCain has cut Democrat Sen. Barack Obama's national lead in half, according to the latest NBC News/Wall Street Journal poll.
"Whatever momentum that Obama took into the summer, he really appears to have lost it," says Republican pollster Neil Newhouse, who conducted the survey with Democratic pollster Peter D. Hart. "It is not a dead heat, but it is close."
The survey also shows that both presidential candidates face their share of challenges. For Obama, he receives the support of just one in two voters who backed Hillary Clinton in the primaries, and he trails his Republican rival on handling terrorism, the war in Iraq and international crises like the recent conflict between Russia and Georgia.
As for McCain, nearly eight in 10 voters believe that the Arizona senator would closely follow President Bush's policies if elected, and respondents view him as the weaker candidate on the issues of the economy and health care — which rank among the public's top concerns in the poll.
Overall, Obama holds a three-point lead over McCain, 45-42 percent, which is within the survey's margin of error. That's down from Obama's six-point advantage last month, 47-41 percent.
There has been a tad [of a] change here," Hart says. "The question is: Why is this taking place?"
Hart lists three reasons. First, the conflict in Georgia as well as the Olympics have moved the news focus from the economy to foreign affairs, terrain that McCain finds more comfortable. Indeed, the poll shows McCain holding advantages over Obama in handling terrorism (51 to 23 percent), international crises (52 to 27 percent) and the war in Iraq (46 to 36 percent).
comparison, Obama leads on health care (48 to 27 percent), the environment and global warming (47 to 21 percent), jobs and unemployment (47 to 25 percent), and improving the economy (42 to 30 percent).
Second, Hart explains that McCain's barrage of negative TV ads against Obama — which began after the Democrat's highly publicized overseas trip — seems to have worked so far. (Yet according to the poll, 29 percent believe McCain has been running a negative campaign, compared with just 5 percent who say that about Obama.)
And third, there are still doubts about Obama's ability to be commander-in-chief. In the poll, 50 percent say they have confidence in McCain in that position. But just 39 percent say the same of the Illinois senator.
Yet perhaps the biggest factor keeping the presidential race close has been Obama's inability to close the deal with some of Hillary Clinton's supporters. According to the poll, 52 percent of them say they will vote for Obama, but 21 percent are backing McCain, with an additional 27 percent who are undecided or want to vote for someone else.
What's more, those who backed Clinton in the primaries — but aren't supporting Obama right now — tend to view McCain in a better light than Obama and have more confidence in McCain's ability to be commander-in-chief.
For these reasons, Hart believes that Clinton's speech on the Tuesday night of the Democratic convention will be a significant event. "The Democratic convention is more than a coronation," he says. "It is an event where the words of Hillary Clinton are probably going to be exceptionally important."