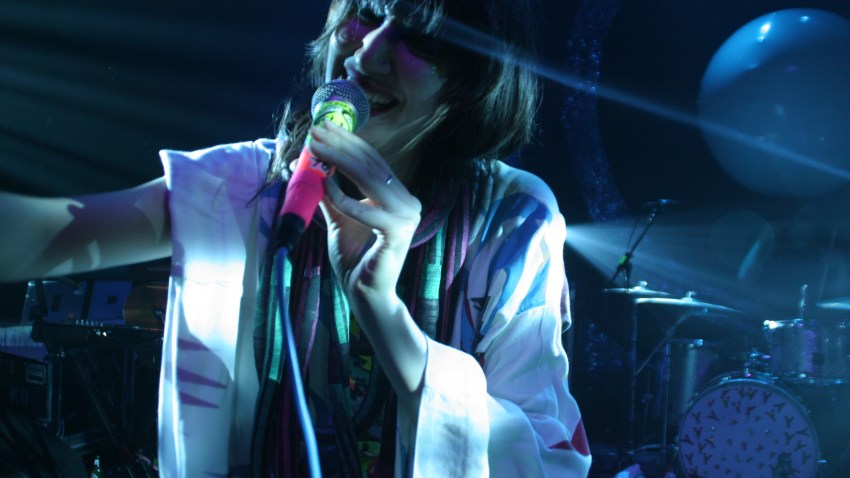 Remembering your roots can be both a humbling and affirming practice. While a look into one's personal history can unearth a wide range of emotions, most of us tend to recall those epic moments that changed our lives for the better. On Friday night the Yeah Yeah Yeahs, one of New York City's most raucous and successful musical exports, returned to the stage at the Mercury Lounge to celebrate their 10th anniversary and relive the instant that set the band's course for rock stardom.
On Sunday, September 24, 2000 the club housed a double feature of future talent when the Yeah Yeah Yeahs opened for the class of Detroit's influential garage rock scene, The White Stripes. Any concertgoer fortunate enough to see both sets witnessed the beginning of a musical epoch where the margins pushed back against the mainstream and reclaimed rock music from the post-grunge alternative schlock that ruled the airwaves.
Fast forward ten years and not much has changed in the Mercury Lounge, the club still resides on a modest strip of Houston Street with the same lingering hint of pastrami in the air courtesy of Katz's Deli. On the other hand, the lives of Karen O (vocals), Nick Zinner (guitar, synth) and Brian Chase (drummer) underwent a drastic transformation as they ascended to their current position at the the top of the indie rock pantheon.
That same spotlight lit the stage as the three-piece took their place in front of family and friends, a group that included fellow NYC rockers The Strokes, Jon Spencer and TV on the Radio. The always fashionable Karen O wore a sparkling cape with "Yeah" written across the back and a hat that resembled a three-layer cake complete with birthday candles. Joy radiated from each member as they plowed through a career-spanning set that put the emphasis on their earlier work. The crowd - lead by TV on the Radio's Kyp Malone - whipped into a frenzy for classics like "Bang" and "Mystery Girl" and with Karen O egging them on, a mosh pit formed during more recent hits like "Heads Will Roll," "Y Control" and "Date with the Night." The celebration hit its peak when the Yeah Yeah Yeahs lead the crowd in a "Happy Birthday" sing-along that segued into a moving rendition of "Our Time".
As Friday faded into history, so did the Yeah Yeah Yeahs first decade in existence. While the lights on the stage grew dim in the wake of their 10th anniversary party, it became clear that their impact on modern indie rock has not gone unnoticed and they still remain one of the most refreshingly earnest and original bands to come out of New York City since the turn of the century. And the best part is they haven't forgotten where they came from.