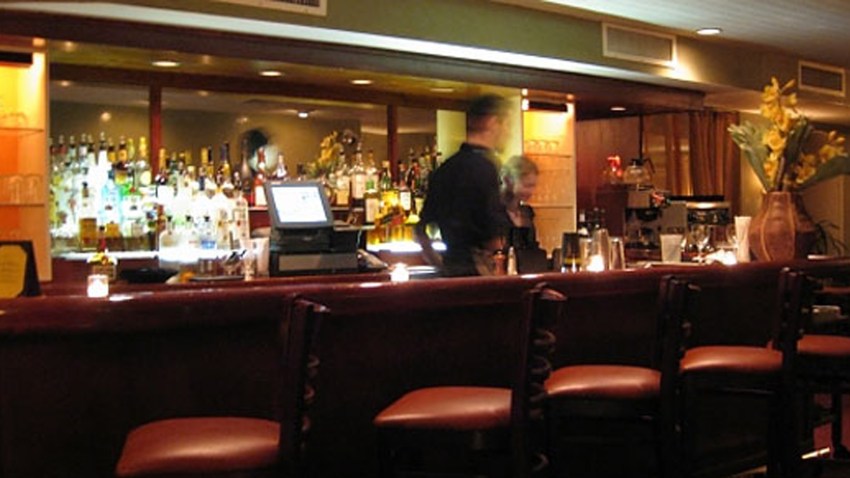 Sweet Emily's opens in the old René Pujol space on Saturday -- the owner, along with his wife, Emily Orr, is René Pujol's former executive chef, Vincent Purdy.
He won't be in the kitchen though; the couple has hired David Kruse, a Bobby Flay alum and a Jersey-shore restaurateur, to create what Orr calls "something inexpensive for the locals and for people coming to the theater, influenced by the food we really like to eat , like Latin American and Southern food."
Assisting him mostly with pastries and baked goods is chef de cuisine Jacqueline Bruton. The menu -- which, yes, looks very Flay-vorful -- is after jump.
Appetizers
Tomato Tortilla Soup - $5
Bacon Mac & Cheese Croquette - $5.50
Served with Smoky Tomato Dipping Sauce
Latin-Style Hummus - $6
Flavored with Cilantro-Green-Onion Pesto Served with Flat Bread and Fresh Cruditees

Mesclun Salad - $7
Baby Greens with Aged Spanish Goat Cheese, Grilled Pears, Sliced Red Onions, and Cherry Tomatoes Tossed with Red Wine Vinaigrette
Cheese Poppers - $6
Served Two Ways: Mild and Hot (Roasted Jalapenos mixed with Corn and our House Blend of Cheeses And Creamy Herb Dip)
Grilled Caesar Salad - $7
Grilled Romaine Hearts with New Mexican Caesar Dressing, Parmesan Cheese, Pecans, and Crispy Polenta Croutons
Steak Skewers - $7
Chimichurri Flatiron Steak Skewers Drizzled with Roasted-Red-Pepper Sauce
Steamed Mussels - $8
PEI Mussels in Tasso Ham & Tequila broth
Grilled Vegetable Quesadilla - $7
Grilled Zucchini, Roasted Red Peppers, Grilled Corn With Monterey Jack and Cheddar Cheeses
Drizzled with Green Onion & Sour Cream Sauce and Served with Pico de Gallo
Chili-Cheese Fries - $6.50
Stacked Oven-Baked Wedge Potatoes covered in our House Chili, Shredded Monterey Jack Cheese and Pico de Gallo
Shrimp Mojito - $8
Grilled Shrimp with Fresh Orange and Watercress in Coconut Mojito Sauce

Small Plates
Jacquie's Burger - $9
7 ounces of Ground Sirloin on a Toasted Roll with Lettuce, Tomato, Caramelized Onions and Chipotle BBQ Sauce
Choice of Cheddar, Monterey Jack or Mozzarella $1.50
Panko-Crusted Salmon Cakes - $10
Sauteed Salmon Cakes with Black Bean Sauce and Sour Cream
Coffee-Rubbed Chicken Arepas - $10
Grilled Chicken Breast with an Ancho-Maple glaze on top of Crispy Arepa Cakes with Avocado-and-Roasted-Corn Salsa
Old-School Chicken Pot Pie - $8
Chicken Breast and Vegetables Baked under a Flaky Crust
Grilled Sirloin Tips - $14
Sliced Sirloin Tips with Sauteed Mushrooms, Grilled Onions, and Red Wine Demi-Glace
Big Plates
Plantain-Crusted Tilapia - $15
Served with Sauteed Spinach, Warm Carrot, and Chayote Squash Slaw in Mango-Ginger Broth
Braised Beef Short Ribs - $20
With Roasted Vegetables, Sweet Potato Risotto, and Port Wine Sauce
Sweet Emily's Shrimp & Grits - $15
Sauteed Gulf Shrimp with Bacon Grits and Bourbon-Caramelized-Onion Sauce
Honey & Red Pepper Roasted Salmon - $15
Atlantic Salmon with a Honey-Red-Pepper Sauce with Sauteed Spinach and Roasted-Garlic Mashed Potatoes
Smoked Pork Chops - $16
House-Smoked Grilled Pork Loin with Potato Gratin, Sauteed Spinach and Sweet and Sour Apricot Sauce
Roasted Chicken Jambalaya - $16
Roasted Chicken Breast with Andouille Sausage, Red Chile Rice and Herb-Infused Gravy
Sides - $4.00
Cup of House Chili
Bacon Grits
Roasted-Garlic Mashed Potatoes
Bacon Mac & Cheese
Grilled Zucchini
Red-Chili Rice
Oven-Roasted Potatoes
Dessert
Warm Apple Cake - $6
With Whipped Cream
Tapioca Pudding - $6
With Candied Orange Zest
Flourless Chocolate Cake - $6.50
With Caramelized Bananas and Whipped Cream
Coffee - $2.50
Tea - $2
Regular, Earl Grey, Green, Chamomile, Mint
Sweet Emily's, 321 W. 51st St., nr. Eighth Ave.; 212-957-9338
Previously on NYmag.com's Grub Street...

Copyright FOODD - NY Mag