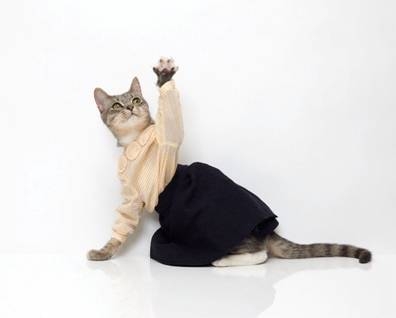 UNITED BAMBOO
There is more than one reason to get excited for this Fall sample sale. Like what? Up to 85 percent off retail on the goods and the opportunity to pick up a 2010 Kitty Calendar. Expect to see the bold patterned Panel Dress for $110 (marked down from $570), the nude-toned Folded Ribbon Dress for $110 (marked down from $530), and the men's plaid pea coat for $250 (marked down from $1000). Stop by early if you're itching for one of the calendars, a limited number will be on sale for $25 a piece with 20 percent of the proceeds going towards the Kitty Kind Organization. Monday and Tuesday at 217 Centre St., 6th floor; 10AM-8PM.
SAMANTHA PLEET
If the cold weather's getting you down, do not fear -- You can warm up with some hot cider and ginger snaps at the Samantha Pleet sample sale this weekend. They're taking over the Dossier store to sell off everything that they have left from this season including items from Samantha Pleet, Patrick Pleet, samples and select vintage pieces for men and women. Friday to Sunday at 244 DeKalb Ave. in Brooklyn; 12-7PM.
OAK
We're in the second week of OAK's 304050 sale, which means we can expect up to 40 percent off designer goods this weekend. Don't fret if you don't make it out this week, the discounts are only going to get better! All week at 28 Bond Street in Manhattan and 208 North 8th Street in Williamsburg or online at oaknyc.com.
OPENING CEREMONY

The winter blowout sale at this downtown indie mecca if officially better than anything else out there, as discounts deepened to a whopping 70 percent today on Band of Outsiders, Rachel Comey, Vena Cava, and Alexander Wang. Hit the store at 35 Howard Street, or online at openingceremony.us.
ANGEL SANCHEZ, TULEH AND BRYAN BY BRYAN BRADLEY
Dresses and evening wear by this set of luxe designers will be available for up to 80 percent off at the sample and stock sale. Sunday to Tuesday at the Angel Sanchez Showroom at 148 W. 37th St., 7th floor; Sunday, 11AM-5PM; Monday and Tuesday, 10AM-6PM.
GENERRA
Still trying to keep warm as temperatures continue to drop? Check out the Generra sale with men's and women's items from the Fall line at 60 percent off. For the men you'll find jersey knits marked down from $90 to $36 and jackets from $250 to $100. Ladies, expect basic rib knit tops marked down from $68 to $27, dresses from $295 to $118, and coats from $365 to $146. The sale runs through Jan. 31; Monday-Saturday, 11AM-7PM; Sunday, 12-6PM.
JILL STUART
For a mix of old and new, head to the Jill Stewart sale to check out pieces from the Fall and Winter 2009 collections as well as vintage ware. Expect 30 to 60 percent markdowns with two full racks for $150. The sale runs daily through Jan. 21 at 100 Greene St.; 11AM-8PM.
BIRD
The boutique's ongoing winter clearance sale is now up to 50 percent off with deep markedowns on Alexander Wang, Rachel Comey, Rag & Bone and more. If you need any other reason to go, this weekend 10 percent of all sales will go to helping the Earthquake victims in Haiti. Find the closest Bird location to you at http://www.shopbird.com/.
A.P.C.
The French import has started their end-of-season markdowns. The result? Markdowns on high-quality, understated chic. The sale runs now through Jan. 20 at A.P.C. on 131. Mercer St.; Monday to Saturday, 11AM-7PM; Sunday, 12-6PM.
HOLLANDER & LEXER
To all the fellows, don't think we forgot about you. This boutique will be offering select fall/winter items from labels like Barbour, Helmut Lang and more for up to 50 percent off. Expect to see Rachel Comey wool shoes marked down to $240 or Robert Geller shirts for $168. If you don't mind the trip to Brooklyn, head to either 358 Atlantic Ave. in Boerum Hill, or 103 Metropolitan Ave., in Williamsburg, now through Sunday.
HONEY IN THE ROUGH
The sale at this Rivington shop continues with markdowns up to 50 percent off on their fall/winter merchandise. Check out the entire collection of pitch-perfect party dresses from Antipodium, Madison Marcus, Tsumori Chisato, and more all weekend. Head to 161 Rivington St.