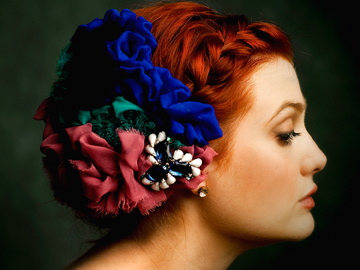 Jen and Jamie of LA-based millinery, Ban.do, both "love to be the center of attention, are inspired by color, and enjoy laughing until soda comes out of their noses." Which is a pretty apt description, actually, of how you'll feel when wearing one of the brand's cheeky, color-saturated caps or headbands.
Favored by the likes of Taylor Swift and Kelly Osbourne, Ban.do has enjoyed cult-fave success with the rise of this year's must-have accessory: the headband.Their signature offerings -- giant floral hair pins, crystal studded bands, vintage-inspired clips -- are still the engine of the company, but they've recently added two new labels: Heart by Ban.do, featuring cute, kitschy headbands and hair accessories (all under $50!), and Black Label, a jaw-dropping collection of lush, hand-embroidered headpieces.
We're crazy for their "she knows perfection" cap, which includes layer after layer of electric blue and pale rose chiffon, embellished with a vintage crystla brooch. Of course, the extra-luxe collection comes with an appropriately steep price tag: Black Label prices range from $250 to $350. Shop the complete collection at www.shopbando.com.