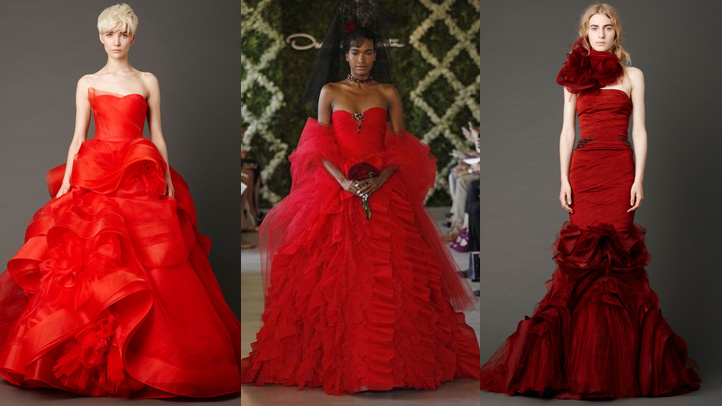 Last fall, black became a dominant theme around weddings -- from dresses to rings -- and now the palette has shifted to something a bit more vibrant: red.
It's bridal week here in New York, which means that designers from Vera Wang to Oscar de la Renta are showing their new bridal collections for the Spring 2013 season. At this point in her career, Wang is considered the queen of bridal, and her runway choices tend to set trends when it comes to gowns. For next spring, Wang decided to do something decidedly different in showing a collection rendered entirely in various shades of red -- from a bright ruby color to a deep burgundy shade. Wang called the collection "Mei Meng," or "Beautiful Dream," describing it as "a celebration of love."
What's most interesting is that Wang wasn't the only one to tap into crimson shades for bridal. Oscar de la Renta (pictured in the middle above) also showed a red flamenco-inspired confection as part of his fall bridal offerings. Could we see a full-blown red trend on brides next year? Only time will tell if the trend will make its way down real-life aisles.
p.p1 {margin: 0.0px 0.0px 0.0px 0.0px; font: 22.0px 'MS Mincho'; color: #666666} span.s1 {font: 12.0px Cambria; color: #000000} span.Apple-tab-span {white-space:pre}