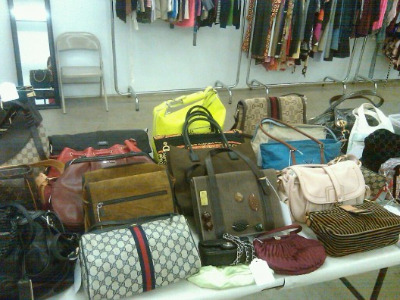 Aptly named Confessions of Three Shopaholics, it's a sale that sounds too good to be true:

Three industrious young women looking to clean out their well-appointed closets. Seven-hundred items ranging from Seven denim to Louis Vuitton bags, priced from $10-400. And one four-hour window to get in on the goods.

Yesterday, we hoofed over to investigate the Chelsea Arts Tower space and just missed Hidy, one of the sale's co-founders. Still, photos she sent us last night and those posted on Racked and Madison Avenue Spy indicate that this is the real deal. Shop Theory, Miu Miu, Elie Tahari, Prada, and Cynthia Steffe in sizes running the gamut from 5-10 (shoes) and 0-10 (clothing).

The fact that they make no qualms about the for-profit selling angle leads us to believe that the quality level (and the deals) are going to be worth the trip. Reportedly, one co-founder is planning to renovate her apartment with her take.

And we're sure none of them are ruling out some fall shopping.

Confessions of Three Shopaholics Sale
545 West 25th Street (b/t Tenth and Eleventh Ave), 8th Floor: Today, 5-9 pm. Cash Only.