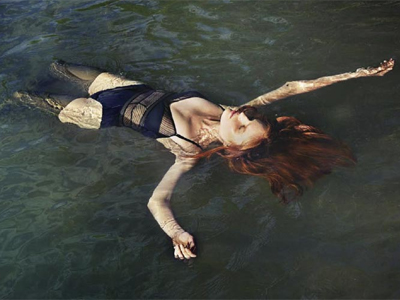 Dreamy lingerie label The Lake & Stars created their first-ever swimwear, and it's now up for sale at Barneys stores in NYC and LA.
The Lake & Stars fills, for us, a hole in the lingerie market, in that it's loaded with sex appeal while being totally chic. Sure, there are the La Perlas of the world, but The Lake & Stars adds more of an edge to their undies, not to mention it's a smidge more affordable. And now, their first line of swimwear is available at Barneys.
Six sweet styles will get the well-heeled sunbather through summer -- there's minimalist, lingerie-inspired bikinis in yellow, black, white, and cream; with similar one-pieces with sheer cover across the middle and ladylike, vintage-esque halter maillots with plunging necklines. We like the idea of swimming with style and apprently, so does Jessica Alba -- she's already been spotted sporting a TL&S suit in Africa.
Plus! We just got word that the new Double in Brass collection for Urban Outfitters drops in May, so stay tuned for more on that!