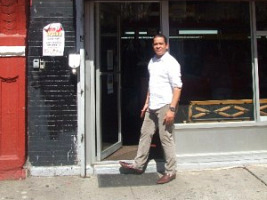 The chic set in this city certainly treasure a good tailor, and it seems fitting that Pablo Vargas of the Stanton Tailor Shop is finally getting the attention he deserves from folks like Bowery Boogie and Racked.
Vargas and the Stanton Tailor Shop pre-date the gentrification of the Lower East Side, dating back to the days of business from the garment trade and fear of the neighborhood's dangerous lurkers. Now, Vargas has built a following of loyal, discerning customers with his impeccable skill and surprisingly reasonable prices. Whether it's making vintage pieces work, fitting a dress or suit to perfection or altering the very construction of the original garment, Vargas has earned high marks.
Bowery Boogie has posted Part One of their profile, so stay tuned for more and sadly, but inevitably, longer lines in the shop in the weeks to come.