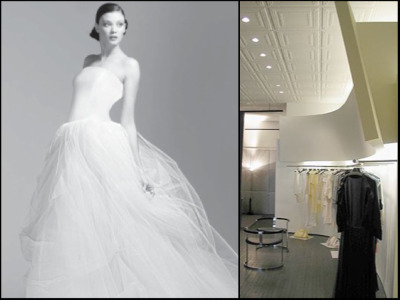 This week kicks off the Saks $999 Bridal Sale, and marks the bittersweet closing sale for legendary Meatpacking veteran Shelly Steffee.
The Saks $999 Bridal Sale starts tomorrow, June 2 and runs through Sunday, June 6. Brides-to-be can snag designer dresses from the likes of Vera Wang, Reem Acra, Amsale, Kenneth Pool, Monique Lhuillier, and Anna Maier~Ulla-Maija for a dollar shy of a thousand bucks. Madison Avenue Spy also reminds shoppers that all sales are finals and alternations are not offered on sale items.
Also from the Spy, Shelly Steffee boutique will shutter due to (what else?) "lease negotiations" according to a sign on the door, which we're interpreting as skyrocketing rent. To close the store, the designer is throwing a sale June 3-6 with prices on Steffee's signature dresses rumored to be within $95-$150, alongside an impressive selection of choice vintage and shoes, bags, jewelry, and fur. While we're sad that yet another favorite brick-and-mortar boutique must bite the dust, there is consolation in the label's continued presence at other luxury retailers.