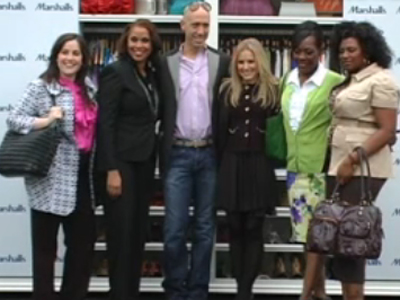 As an extra special lunchtime treat, Robert Verdi and Kristen Bell turned out to make over three ladies using clothing from Marshalls in the middle of Union Square -- and gave out a $5k spree to boot -- in conjunction with Dress for Success.
Full disclosure: We'd been getting cryptic invitations for the past few weeks that read only "Unlock Your Shopportunity," and we wondered what all the fuss was about. We're thusly relieved that the mystery has been unveiled.
The event was coordinated by Dress for Success, a non-profit that gives women in need both tools and ensembles to help advance their careers, and Marshalls was kind enough to both supply the clothing for the makeovers and the $5,000 spring wardrobe, as well as broadcast the entire event over Facebook (where we caught most of the spectacle). Despite Verdi's rather awkward, hammy dialogue and tips (on zebra print: "Tacky!"; on himself: "I'm flaming!"), there's nothing quite like a makeover spectacular in the middle of a public square, and Bell did a nice job of bringing it all back to the ladies who need the style the most -- the Dress for Success crew.