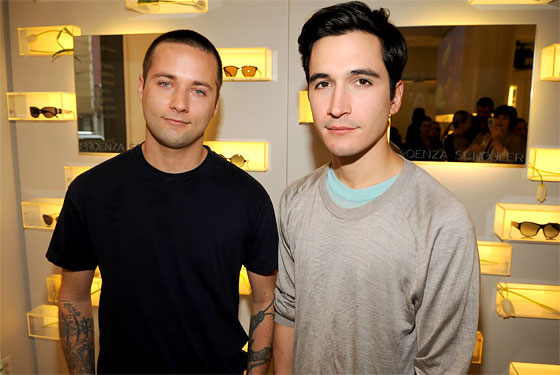 Rumors have been swirling for months about a potential sale of Proenza Schouler to Theory's co-founder and CEO Andrew Rosen, and in a February Vogue article about Proenza Schouler's wunderkind designers Lazaro Hernandez and Jack McCollough, the deal is described as being "on the brink."
Permira, which also owns a controlling stake in Valentino, bought 45% of Proenza Schouler in 2007 for $3.7 million.
Hernandez
,
McCollough
and
Shirley Cook
, CEO of the company and a college friend of the designers, control the other 55% of Proenza Schouler.
The deal, which Rosen is allegedly spearheading, is separate from his role as co-founder and CEO of Theory and related to an investment group that he is leading. Rosen has also made personal investments in fashion brands including Alice & Olivia, Gryphon and
Rag & Bone
.
Rumors went into overdrive that the deal was a go when Rosen appeared at the Proenza Schouler spring 2011 fashion show in September and at the designer duo's table at the Fashion Group International Annual Night of Stars Gala in October.
What does this mean for Proenza Schouler? Rosen knows a thing or two about turning a fashion upstart into a major business. He co-founded Theory in 1997, and the company now reportedly brings in more than $500 million in sales each year. Because of his history, Rosen likely has more patience when it comes to growing a fashion brand than a private equity firm would. It is also said that his influence at Rag & Bone has led to to the label's increasing retail presence and its push towards e-commerce.
According to the Wall Street Journal
, Proenza Schouler was making about $6 million in sales annually back in 2007, but had aims to increase that to $25 million by 2012. That number has likely climbed thanks to the success of the label's popular accessories including the PS1 bag, which launched in 2008. The brand has also grown in recent years by dipping into e-commerce and by making inroads in the European market.