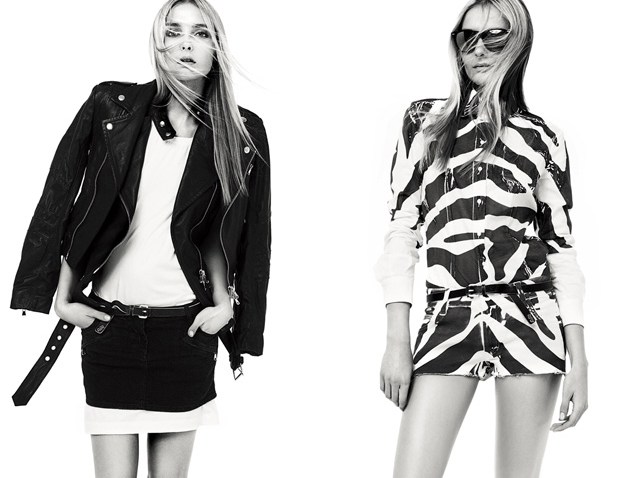 Tired of lusting after Balmain pieces that cost more than your take home salary for the year? Enter the label's secondary line, Pierre Balmain, which recently debuted during Paris fashion week.
At the presentation in a spare showroom space on the Right Bank, with the label's preview videos featuring model Abbey Lee Kershaw and her band Our Mountain played in the background, the collection was displayed on a mix of models and mannequins.
While Balmain's Spring 2012 collection under new Creative Director Olivier Rousteing was all about embellishments (rhinestones, beading and embroidery), the secondary line is both minimal and casual. There are skinny jeans with zippers at the ankle, graphic zebra button-downs and cut-offs, motorcycle jackets, varsity jackets with PB emblazoned on the back and bandage dresses for women. For the guys there are double-breasted jackets, washed jeans, denim vests and t-shirts galore. Don't expect color, this collection is all about neutrals -- black, white and tan.
The zebra print throughout the collection was apparently inspired by Pierre Balmain's first safari. Much of the collection, though, felt like a tribute to Paris Vogue editor Emmanuelle Alt, who has been an avid fan of Balmain's Sgt. Pepper jackets and skinny jeans for years. For girls (and guys) looking to capture her easygoing Parisian style, this is the collection for you.
The line will range between $180 for a t-shirt on up to $1,200 for leather jackets. Those are bargain basement prices compared to Balmain ready-to-wear, where leather jackets cost over $6,000 and embellished jackets have been known to reach $20,000.
Rousteing will not be overseeing the line -- there is a separate design team in place -- and it's being produced and distributed in a partnership between Balmain and Ittierre SpA. Ittierre has been plagued with financial trouble over the last few years and filed for Amministrazione Straordinaria in Italy in 2009, the equivalent of a Chapter 11 in the U.S. In the process, the company lost one of its most profitable licenses, Just Cavalli, which is now being produced and distributed by Staff International. In 2011, Albisetti SpA swooped in and bought Ittierre. Its highest profile licenses currently are C'N'C by Costume National and Galliano, the John Galliano secondary line. The launch of Pierre Balmain is the company's highest profile launch since its financial woes began, and it remains to be seen if there will be demand for the line, which will bow in around 700 stores around the globe next year. Stand-alone stores in Milan, Paris and Rome, and an e-commerce store are also in the works.