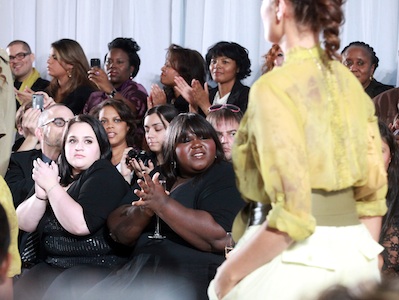 OneStopPlus.com seeks to put the "fashion" in plus-size fashions and their off-Fashion Week runway show rolled out fresh spring styles to a crowd of boldface names.
Oscar nominee Gabourey Sibide led the A-listers at Jazz at Lincoln Center, a group that also included the event's host Emme, and Nikki Blonsky. Being interviewed pre-show, Sibide, who's surprisingly giddy-girlish given her serious acting chops, chatted with the cameras about the plus-size fashion movement: "I mean, duh, we, like, need clothes too."
The shopping website which caters primarily to sizes 14 and up, presented a series of pastel-hued flowy cocktail dresses, metallic rompers and tailored separates for spring. The high-fashion setting, along the lines of the high-fashion, tiny-sized counterparts, marks a step toward the recognition of the plus-size market as a legitimate venue for stylish clothing options.
According to our seatmates, the company was refused acceptance to be part of the official New York Fashion Week roster, however that's merely speculation on our part—we have no official confirmation. Nevertheless, were happy to support the event and see the attractive outfits that are only now becoming more available to a significantly influential sector of the retail market.