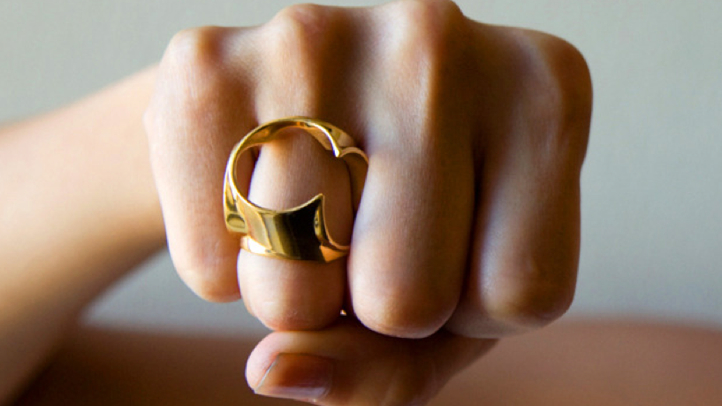 Designers Sergio Silva and Matthew Bradshaw met at Pratt, where they were "always the ones left in the studios at 4am," jokes Bradshaw. "There was always a healthy competitive spirit between the two of us; always trying to see who could make the best cardboard and hot-glue 3d sculpture every week."
Eventually, the pair began fiddling with one another's school projects. "I was bored and out of work, and I think Sergio was too—bored that is," Bradshaw explains. "So we decided to work on a few things together... and then this happened."
The "this" he's referring to is an inspiring collection of three-dimensional art objects and jewelry pieces, appropriately dubbed Silva/Bradshaw.
The collection, which includes a number of furniture pieces and household objects like an all-white coffee table suspended on slanting legs, or a ceramic serving dish with a sinking indent at the center, was born out of the fellas' shared desire "to make simple but beautiful objects and places."
But the real highlight for we fashion-aficionados, of course, is the jewelry--each piece a tiny 3-D sculpture imbued with the designers' imaginative take on space and form.
"Matthew is an amazing draftsmen," Silva says of their collaborative process. "He's also responsible for a bulk of the computer stuff. I like to build things and tend to be a little more hands-on. We both find it really important to arrive at a form three-dimensionally."
The precision of that process shows in their finished work. The remarkable "Numbers" ring, for example, features three different ring sizes cut into a gold sphere, so every wearer can try it differently depending on the size of their fingers.