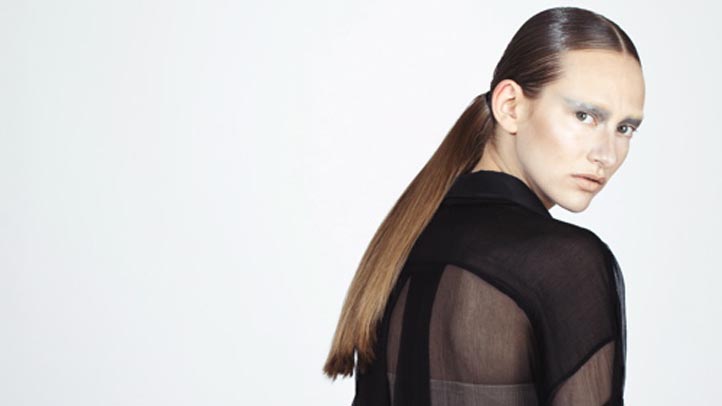 Israeli stylists Tomer Almoznino and Diana Bazeli shared their first kiss as kids growing up in Cholon, a city on the outskirts of Tel Aviv. "Only years later we met again," says Tomer. "That's when we discovered that we share a mutual passion for design and tailoring."
Now in its second season, their shared label, First_Kiss, takes its name and even some inspiration from that adolescent smooch. Exploring a juxtaposition of classically feminine shapes with a goth-chic edge, the line is crafted entirely in Tel Aviv by "one of the best tailors around," and has begun turning heads Stateside with its fantastical take on familiar womenswear shapes.
"This season is based on movement," explains Tomer, who studied fashion design in London before collaborating with Bazeli. "We turned to dance to find that specific idea we were looking for. We saw a lot of dance shows, both modern dance and ballet...But of course our daily lives in Tel Aviv affected the outcome of the collection, as well as dance shows here."
The decision to move in together also impacted their collaborative process, which Tomer describes as "very much a shared experience. However, in the end, one can say that Diana mainly focuses on textile and print where I concentrate more on silhouette and the draping of the fabric."
Poetically, with all of their fashionable undertakings, Tomer and Diana hope to channel that same "first moment of excitement, like the first kiss. We want [our customers] to experience that same feeling when they see and wear our clothes." Indeed, we're feeling rather tingly about a sheer silk top with contrasting white panels, though whether we were as enthusiastic about our first smooch, we can't quite recall.