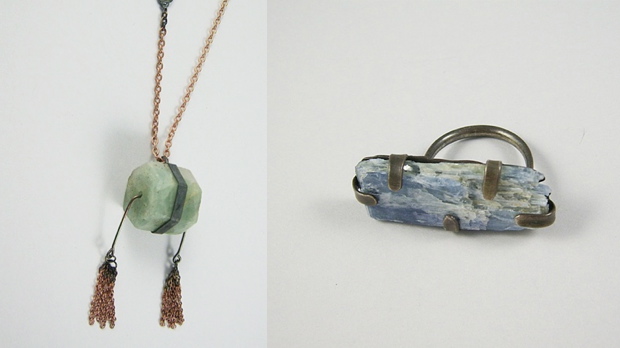 Before settling on jewelry design, Ohio native Sara Dudzinsky briefly flirted with the idea of doing ready-to-wear. Of course, you don't typically get to use a flaming torch, saws, or hammers in fashion design -- all of which Sara turned out to be pretty handy at using.
"I think it was in middle school that I had my first experience using a torch and soldering, and jewelry really won me over," she says. "I really love the process and tools involved in working with silver and gold."
In addition to silver and gold, one of the defining aspects of Dudzinsky's jewelry label, Better Late Than Never, is her use of peculiar, often-overlooked natural materials. "Recently, I have been working with some different sea spines that are really interesting," she says of her exotic-looking spiked earrings. Natural mineral formations and crystals are also in ample supply. Our favorite: a pair of sharp, amethyst studs.
"I really enjoy using materials in their natural form because it makes every piece a little different," says Dudzinsky. "That helps keep it interesting for me and more unique for my clients." Often, the materials themselves will serve as collection inspiration, with "the shapes and colors of the stones driving the design."
For 2012, Dudzinsky claims she has some collaborations cooking with favorite boutiques and designers, though details remain undisclosed. As for us, we'll hope to see more "Better Late Than Never" hopefully sooner than later -- which, come to think of it, wouldn't be a bad name for a future diffusion collection.