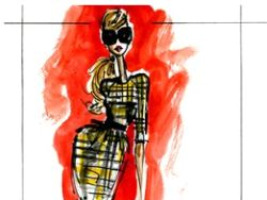 Jason Wu has created an eight-piece capsule collection for Bergdorf Goodman, dropping exclusively at the store and online May 14.
Wu did what he does best for the Bergdorf's collection, creating a special array of cocktail dresses for the American woman with fresh colors (yellow, red, navy) and a melange of silhouettes emphasizing both ease and polish. The line will retail between $1,150-$2,990 -- differentiating it from recent capsules created specifically for retailers like Zac Posen's recently-launched Z Spoke, which is priced lower than the designer's main collection and is sold exclusively at Saks Fifth Avenue.
Considering Wu's party dress prowess, it's certainly a treat to get eight bonus styles from Wu this spring. Between wedding season and holiday party season, we could see this becoming a regular affair.