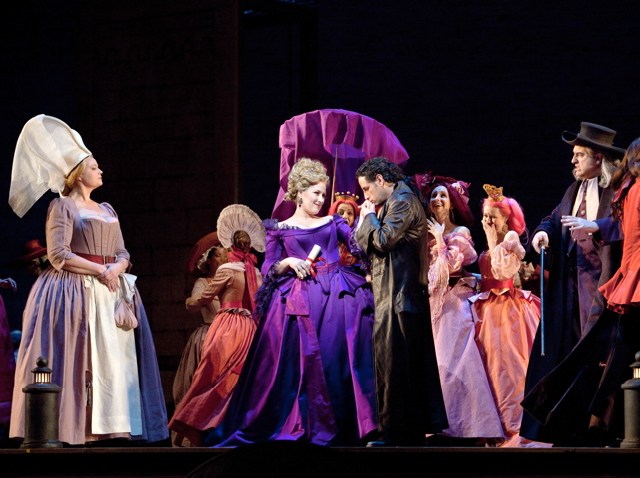 Costume designer Catherine Zuber has the rare bragging rights that come with five Tony Awards and over two decades of Broadway costuming credits. The latest production to benefit from her expertly-crafted ensembles is The Metropolitan Opera's "Le Compte Ory," a comedy that seems to have struck a chord with the fashion community especially, attracting the likes of Mary Kate Olsen, Raquel Zimmerman and Claudia Schiffer to its glitzy gala premiere. We caught up with Zuber to ask about the challenges of designing for stage versus fashion or film, and how she's able to communicate character identity through clothing. After all, isn't that what we're doing every time we get dressed?
What is the most important difference between costume and fashion design?
Costume design is about characters who exist in a social environment and have a story to tell. They can be, but are not always glamorous or adventurous in their clothing choices. High fashion design is about the new and exciting—and about marketing.
Do you think there's any cross-over between fashion and costuming? How do you think they might influence each other, if at all?
On some projects, the details and inspiration from couture can be quite present. In fashion, a period film can inspire a collection.

Describe the process of preparing to costume a show. Where do you look for inspiration?

On "Le Compte Ory," my first source of inspiration was the colors in the painting "The Garden of Earthly Delights" by Hieronymous Bosch. For the silhouettes of the peasants I looked at the traditional dress of the various regions of France. For the aristocratic women, I was inspired by period costumes of the 17th and 18th century mixed with couture influences from the recent past.

Is there a difference between designing costumes for a comedy like "Le Compte Ory" and a more serious production? How about a musical?
When designing a comedy, it is possible to delight in proportions and shapes that are extreme. For example, some of the hat shapes of "Le Compte Ory" would be inappropriate for a 'serious' production.

You've worked with director Bartlett Sher on a number of past productions. Describe your collaborative process.
Bart always has a very exciting sense of the story he wants to tell. Our collaborative process begins with discussions and research and exploration into the various paths we could take. Once our journey has been decided, it is a process of sketching, reviewing, color experimentation and changes.

What do you think is the most challenging aspect of designing for the stage versus for film?
When the Met broadcasts operas in HD, the most challenging aspect is the detail work. When an audience views a costume from the audience, they are observing from a distance and from head to toe. For film, there are close-ups to consider: does the jewelry work? Is the make-up too heavy? Are the details reading correctly?

How many pieces total did you create for "Le Compte Ory"?
There must have been about 160 total.

In what ways might you represent the personality of a given character through his or her costume? Can you use any examples from "Compte"?
When you first see a character appear on stage, before they communicate anything to the audience, you have a visual impression based on what they are wearing. For Juan Diego Flores, we see him for the first time in his disguise as the hermit. We worked with our wig designer, Tom Watson, to create a wig and facial hair that was obviously fake but charming at the same time to convey the character's comic manipulations.