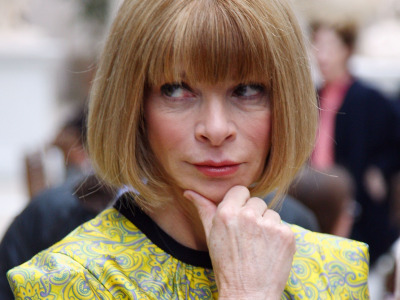 Anna Wintour rallied her neighbors at a community meeting Wednesday night, leading the charge against the opening of a new Jamaican restaurant to the area.
It's Wintour against restaurateur Serge Becker of La Esquina, The Box, Café Select and Joe's Pub fame, on the eve of his latest venture's slated opening on Houston and Sullivan Street in the West Village. Miss Lily's Jamaican eatery bills itself as a restaurant, but Wintour, her 24-year-old son Charlie, and roughly 98 percent of the nearly 100 attendees of the Community Board 2 committee hearing voted against the project, fearing excessive noise and interference to the safety of the neighborhood.
Wintour runs an infamously tight ship over at Vogue, and her powers of management apparently extend beyond the publishing world. The Daily News reported that Wintour asked for a show of hands of those against the restaurant's opening, which is against the rules of the committee hearing, and instead, received a resounding round of applause. Needless to say, Wintour is a worthy adversary in matters important to her, and it probably wasn't the best timing for Miss Lily that the Sally Singer's resignation from Vogue was announced earlier that day.