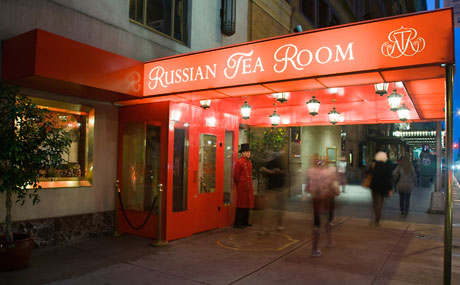 The famed Russian Team Room is participating in this winter's Restaurant Week, offering the cash-poor or frugal among us the chance to dine at one of the city's most exclusive restaurants for a fraction of the price.
And now, for the first time ever, the Russian Team Room is also offering free tours of the establishment -- even the private rooms usually reserved for the very wealthy or very powerful.

The floors on display will include the whimsical second-floor "Bear Lounge", which features a spectacular tree of Fabergé-inspired Venetian glass eggs and a 15-foot revolving bear aquarium replete with large, glimmering goldfish; the third floor "Bear Ballroom" with a stunning 25-ft ceiling decorated with etched mirrors of frolicking bears and three imperial bronze chandeliers adorned by playful brass bears; and on the top floor, "The Hearth Room" which features walls of inlaid decorative wood paneling, a fireplace and an active diorama of the Kremlin in every season.

The top three floors of the Russian Tea Room are not typically open to the general public. The free tours will begin at 11:30 AM and 5:30 PM daily, from January 25th-February 7th and will last approximately 30 minutes each.
Wanna go? Reservations can be made by calling 212-581-7100 or visit www.russiantearoomnyc.com.