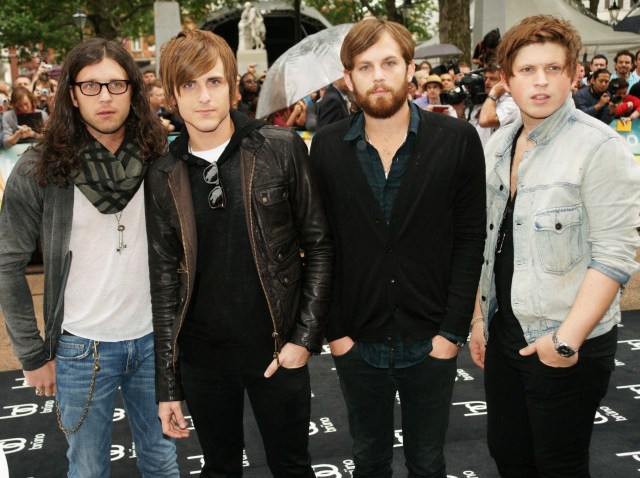 Everyone loves a good fight between public figures. More often than not, one side is clearly in the right, but we still enjoy watching the dust getting kicked around like a classic Lou Piniella clip.

This is why the second round of the public feud between Kings of Leon and Glee creator Ryan Murphy has me rubber-necking like any blue-blood, gossip hungry American.
Let us rewind for a minute and note that this so-called feud is more like a cat-fight between two parties who really should have let sleeping dogs lie. Six months ago Ryan Murphy asked Kings of Leon for their blessing to use one of their chart topping songs on the popular Fox show Glee. Due to fear of "selling out", Kings of Leon decided to pass on the opportunity and while I'm a proponent of their idealism, Murphy took offense to their decision, which left quite the sting on the creator's ego.
This week's Hollywood Reporter will feature a story with Murphy who directs a number of inflammatory comments at the Kings of Leon. He goes on to say:
"F*ck you, Kings of Leon. They're self-centered assholes, and they missed the big picture. They missed that a 7-year-old kid can see someone close to their age singing a Kings of Leon song, which will maybe make them want to join a glee club or pick up a musical instrument. It's like, OK, hate on arts education. You can make fun of Glee all you want, but at its heart, what we really do is turn kids on to music."
When asked to comment, the Kings lead singer Caleb Followill explains his disbelief and defends the band's decision to snub Glee:
"This whole Glee thing is a shock to us. It's gotten out of hand. At the time of the request, we hadn't even seen the show. It came at the end of that record cycle, and we were over promoting ["Use Somebody"]. This was never meant as a slap in the face to Glee or to music education or to fans of the show. We're not sure where the anger is coming from. We just said no to a license for a TV show, which we do a lot."
As Billboard reported, the Kings drummer and brother to Caleb, Nathan Followill took a less diplomatic approach and lashed out via his Twitter feed with this comment:
"Dear Ryan Murphy, let it go. See a therapist, get a manicure, buy a new bra. Zip your lip and focus on educating 7yr olds how to say f*ck."
Once again, I'm siding with the Kings of Leon on this one even if Nathan should have taken a deep breath and crafted a statement that couldn't be taken out of context or misconstrued as homophobic. Regardless of their mistakes in the press, their songs are their creation and their art which affords them the right to decide what is done with it and if featuring a song in some basic cable Grease wannabe is not on their list then they had every right to pass.