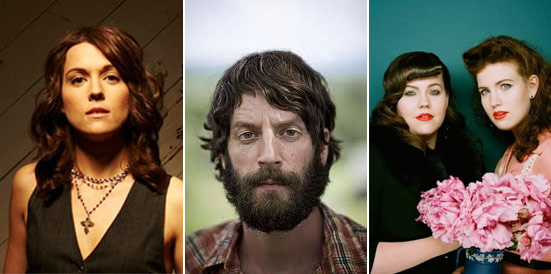 On May 31, head to Central Park for what'll no doubt be one of the best triple bills all summer.
Ray LaMontagne—whose 2011 tour has already kicked off, with him rocking Dublin tonight—brings his band the Pariah Dogs to Rumsey Playfield on May 31. Their rootsy sound alone would be enough to make Central Park feel like the deep woods, but LaMontagne has tapped a pair of excellent openers guaranteed to turn the night into a country jamboree.
Opening for the whiskey-voiced troubadour are both the Secret Sisters, whose honky-tonk-infused vocal harmonies got a touch of pixie dust from T-Bone Burnett (he produced their self-titled debut album, which is high praise for a band just out of the gate), and Brandi Carlile, of the huge voice and affecting, country-tinged melodies.
If you pre-order LaMontagne's Live - Spring 2010 pack, which gets you a five-track EP, t-shirt and other goodies, you get first crack at four tickets through a presale. (That's available at raylamontagne.com.) Or you could wait until the general-admission tickets go on sale to on Friday, March 4 at noon.
WFUV Presents Ray LaMontagne and the Pariah Dogs with Brandi Carlile and the Secret Sisters, Tuesday May 31, doors 5PM/show 6PM, Rumsey Playfield (Central Park at Fifth Avenue at 69th Street). Tickets: $50 advance (available via bowerypresents.com on Friday, March 4 at 12PM), $60 day of show.