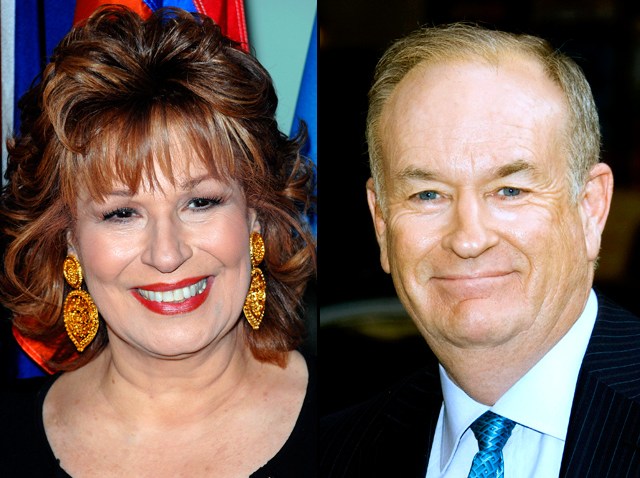 'Tis the season to bury the hatchet.
"The View" co-host Joy Behar said she and outspoken pundit Bill O'Reilly came face to face at President Obama's Christmas party at the White House last week and were able to move beyond their bitter back-and-forth stemming from O'Reilly's remarks about 9/11 that caused the daytime talk show host to walk off the set of her ABC show in October.
"I took a picture with him and I even gave him bunny ears," Behar Sunday night during an appearance at the 92nd Street Y. "Let bygones be bygones."
During the Christmas party, she also lobbied Michelle Obama to get the commander in chief to make a cameo on the show.
"I said, 'Listen, he was on a show called 'Myth Busters' last week and now he needs to come on my show,'" Behar quipped. "She told me, 'I'll see what I can do.'"
Behar, 68, is best known for sitting alongside Barbara Walters, Whoopi Goldberg, Sherri Shepherd and Elisabeth Hasselbeck as co-host on the daytime talk show "The View," a group she calls a "big family." She and Goldberg both walked off the set after the Fox News host said "Muslims killed us on 9/11." The incident led to both sides trading barbs in the weeks to follow.
"Barbara didn't like it, but I did it anyway," Behar said of her walk out. "It was a complete impulse in a moment of rage."
She added: "They're my family and that's one of the reasons I'll never leave," Behar said. "It's fun mostly. I don't feel stressed about that job."