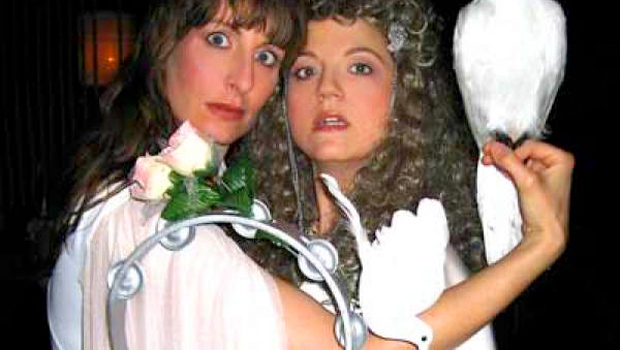 It's one thing to buy someone's album and declare yourself a fan. It's quite another to worship a musician so wholly and completely, you organize a massive costumed tribute-fest to her and then keep it going for 19 straight years. Welcome to Night of 1,000 Stevies, the world's biggest Stevie Nicks tribute event.
The name doesn't lie: If history serves, on Friday, the Highline Ballroom will be crawling with Stevies of every shape and form at NOTS 19: Songs of Rhiannon, a night of waist-length blonde tresses, doves (white-winged, naturally), gauzy shawls, and easily the largest congregation of tambourines outside of captivity. Fans will twirl and shiver to performances by the likes of burlesque maven Amber Ray and a klatch of all-Nicks/Fleetwood DJs. The night culminates in the always-epic Battle of 1,000 Stevies, when dozens of Stevies face off to determine who'll be crowned be the witchiest, twirliest of all.
If you attend, take note of this helpful listing of "suggested dress" ideas from the event organizers: "Rhiannon Realness, Important Celtic Jewelry, Black Roses, Wizard Sleeves, Enchanted Eveningwear, May Day Maiden, Lindsey Or John McVie Warlock Effects, Birds of Rhiannon wings and feathers, Best Pre-Raphaelite Hair In Rock and Roll, Thistle Accents, Sorcerer Capes and Cloaks, Bedazzled and Beribboned Tambourines or Welsh Witch (Dark Ages to Darkwave)." Got it? Good. See you there.
Details:
Night of 1,000 Stevies 19: Songs of Rhiannon
Friday 5/1, 9PM
Highline Ballroom, 431 West 16th Street at 10th Avenue
(212) 414-5994
Tickets: www.highlineballroom.com
Copyright FREEL - NBC Local Media