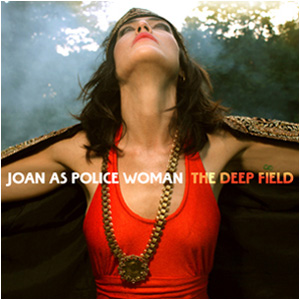 New York-based musician Joan Wasser (she's called her neighborhood "Industrial Paradise Greenpoint") has a new album out this week, and we can't call her "dark" anymore.
Her first two albums as Joan as Police Woman were beautiful, witheringly melancholic affairs: her loss of love (Wasser was an item with the iconic Jeff Buckley) and family (with the passing of her mother) ran through them like an electric current of sadness. For her third album The Deep Field—the title refers to a tiny and far distant part of space—you get the feeling Wasser has done some major spring-cleaning of the soul. Out are the razor-sharp edges and destructive undertones, and in their place, a funky, soulful, languid vibe prevails. Even she describes it as "my most open, joyous record."
Check out the steamy video (out yesterday) for The Magic below, and head to the Joan as Police Woman website for free music—a quick email signup gets you a sampler including The Magic, plus The Ride (from the album Real Life) and Magpies (from the album To Survive), a nice JAPW starter pack for the uninitiated and refresher for the rest of us. The Deep Field is out now as a digital download (buy it here), and comes out on CD April 12.