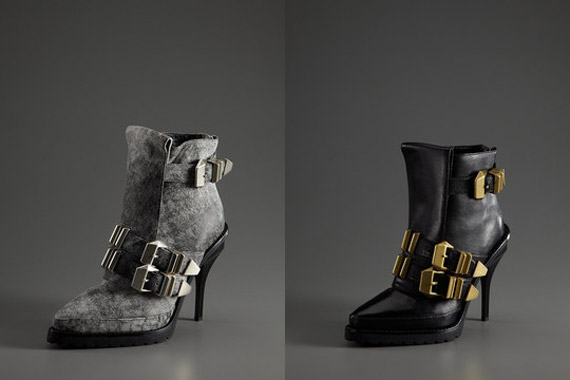 Set your alarm for noon, ladies: Select pieces from Alexander Wang's nearly-sold-out fall accessories collection -- including zippered bags and these buzzed-about boots -- will be going up on Gilt Groupe today for half the original price.
The most enticing items are likely these buckled-and-distressed Hanne boots (in marbled gray and basic black), which have been fawned-over and even imitated throughout the season. Naturally, at $720, they're a bit above most folks' pay checks, but Gilt will be offering them for $358, which -- for the true fan -- seems a bit more manageable.
Then there are the bags: While the sold-out-in-just-days Coco Duffel, alas, will not be on offer, Gilt will indeed have a couple of Wang's infamous pebbed-leather-and-zippered bags available, including an oversize fanny pack-inspired bag (only Alexander Wang could make a fanny pack cool again) that's now $398 (was $790) and a zippered clutch with a shoulder strap included that's now $298 (was $590).
Everything will be going on sale on Gilt.com at high noon and likely won't last long, so we'd advise you to cancel that lunch meeting.