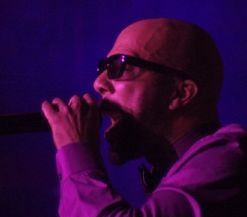 A select LOCALS ONLY crowd scored tickets to a secret Common show on the Lower East Side last night, but even these savvy New Yorkers were in for a shock when Kanye West helped bring down the house.

Common rocked the stage and the mic at the Angel Orensanz Foundation on Norfolk Street for the beautiful and diverse crowd, who won the coveted tickets by proving their NYC street knowledge in an online quiz on nbcnewyork.com. Those who knew the the most about the city won the freebies to the one-time only show.

Backed by a deejay and a live band, Common paced across the stage decked out in a bow tie and shades, spitting his classics and showcasing new numbers including "Gladiator," "Punch Drunk Love" and the "Planet Rock"-inspired title track from his eighth album, the newly released "Universal Mind Control." The crowd was feeling it, roaring as Chicago rapper turned "The Light" into a bit of a sing-along and shouting out the five boroughs. (Brooklyn represented the strongest, naturally.)
After threatening to leave the stage because it was getting too late to be so loud, Common pulled off one last feat: his boy Kanye, who also just dropped a new album and guests on Common's new joint, joined him for two numbers before sending an exhausted but satisfied crowd back into the harsh elements.