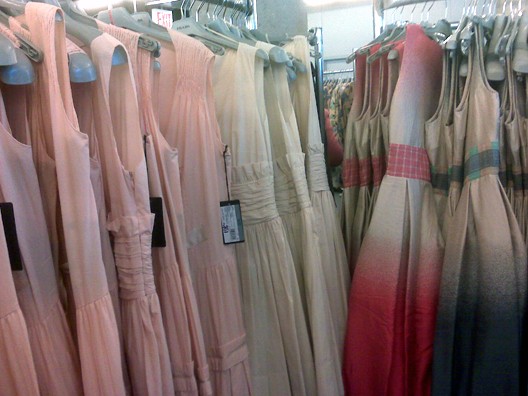 Now that the feeling has returned to our fingertips, let's consider Prada's offerings in more depth. The markdowns on the whole aren't miraculous—this sale isn't going to solve anyone's recession-era wardrobe problems—but they're certainly not bad Prada: Trenches were $442, down from $1770, and we found a rack of waifish, summery cotton dresses in peach and white for $761 down from $3040. After a thorough survey, the cheapest clothing we found was a selection of soft wool pants and stiff wool shorts for $80, all of which ranged from boring to ridiculous.
Also ridiculous, though kind of lovable in their absurdity: Checked elephant bellbottoms for $175 down from $1860. That ruched ombre material, which starts out flannely and turns into a mountain range of crinkles in bronze, green, or blue, was everywhere in the form of dresses, coats and even pants, all between around $700 and $1000. If you absolutely had to buy something and couldn't spend over $100, you could come away with a $30 headband and a scarf (ugly and knit or lovely and silk) for $50, but in general this is a sale that rewards slightly bigger budgets. The clothing is in much better shape than it was last year, but be warned: They're not going to refresh the selections much over the course of the week, so by Friday it might be picked clean.
· Above The Fray: Prada's Going Fast [Racked]
· Epic Lineblog: Waiting on Prada [Racked]For more stories from Racked, go to racked.com.
Copyright RACKN