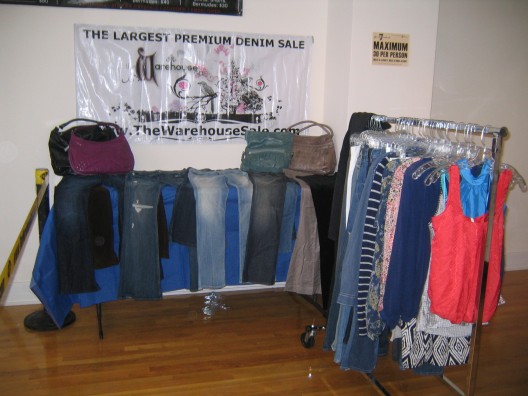 We know that the first ever 7 for All Mankind Warehouse sale is probably more geared toward ladies (and stylish men) who are used to spending exorbitant amounts on designer denim, but we just had to lead with this: They've got super-plush, soft $50 men's cashmere sweaters in gray/black striped, navy/gray stripe and camel (sizes small through extra large).
Whew. Now that that's out of the way, there is of course a warehouse full of assorted denim for both women and men. The denim is separated by size and pricing is divided into two tiers: First Quality on the racks, and Second Quality (irregular or damaged and in boxes) in the back. The prices decrease by $10 each day of the sale. For example, on Thursday (private preview) and Friday, First Quality jeans are $80, on Saturday they drop to $70 and by Sunday they're $60 per pair (see photo for full price list). The Second Quality drops down to $45 by Sunday. Denim (and other bottoms) comes in a variety of washes and cuts for both men and women. Sizes for women run 23 to 30 and for men, 29 to 40.
There are also tops for both women and men, starting at $20 for tees. Also of note are the leather handbags (slouchy hobos, structured, woven, clutches, you name it, mostly in fall/winter colors) for women at $80 for clutches and $150 for totes.
A few tips for shoppers: There is bag check at the front, so pack light. Also, definitely RSVP beforehand, as they will check names at the door. There are men's and women's communal dressing rooms in the back and according to inside sources the record number of jeans to try on so far has been 42 pairs in L.A. Beat that, N.Y. There is a maximum of 15 jeans and 15 tops to purchase per person and they accept cash and credit. Staffers assured us that they will be replenishing stock, so weigh your pros and cons to decide whether to go Friday or wait for the prices to drop over the weekend.

Copyright RACKN