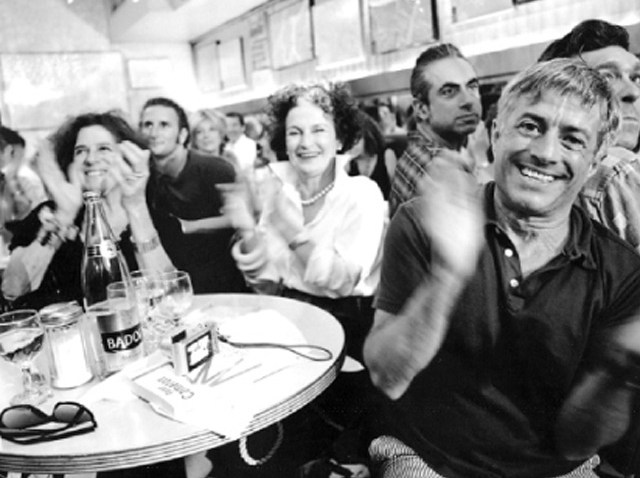 'QUEEN' FOR A DAY: Restaurant closings are a grim fact of present-day NYC, but few—possibly none—have caused quite the outcry prompted by the shuttering of Florent Morellet's beloved 24-hour Meatpacking District bistro-diner Florent. If you missed the premiere of David Sigal's documentary Florent: Queen of the Meat Market at the NYC Film Food Fest, get one of the remaining tickets to this Out Professionals screening, where Morellet and Sigal will be in attendance. (Check out the trailer.) Goldcrest Films (MeatPacking), 6PM.
VIVA ITALIA: A crowd a million strong is expected to once again make the 66th annual Columbus Day Parade the largest Italian-American celebration in the U.S. of A. More than 35,000 marchers will make up 100 bands and floats drifting down Fifth Avenue from 47 to 72 Streets, Grand Marshaled by Maria Bartiromo (CNBC's Closing Bell), anchored by Joe Piscopo, and featuring the cast of Pinocchio the musical, all the way from Italy. 11:30AM-3PM.
TIMES TWO: We could scarcely ask for a more delightful double bill: As part of the series The Heist, Film Forum screens two brilliantly funny capers directed by the same visionary—37 years apart. In Lavender Hill Mob (1951), Alec Guinness' pin-neat bank clerk has a dark, scheming side. In A Fish Called Wanda (1988), no-one is safe: Not stutterers, not little old ladies walking their dogs, and certainly not fish. Both of Charles Crichton's films won Oscars; Wanda was his last project. 7:30PM (Lavender Hill), 9:05 (Wanda).
Got a tip? Email Elizabeth.