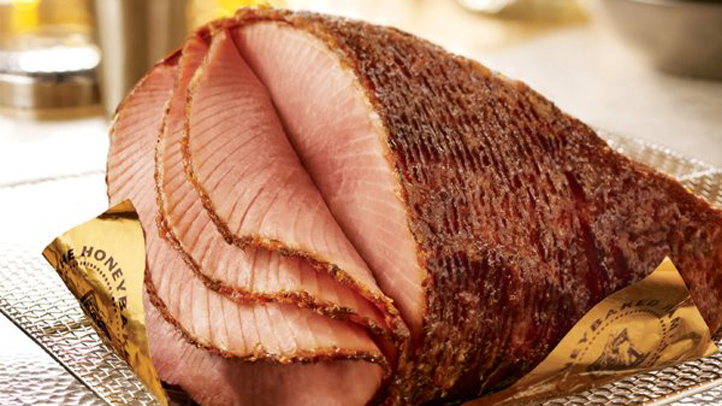 The following content is created in consultation with HoneyBaked. It does not reflect the work or opinions of NBC New York's editorial staff. To learn more about HoneyBaked, visit HoneyBakedOnline.com.
Everyone wants to spend the Holidays with their family and friends, getting together with good company over good food. But, unfortunately, we can't always be with the ones we love during this special time of year.
That's why gifting can be a great way to show those we don't see during Thanksgiving, Christmas or New Year's that we're still thinking about them. And nothing conveys that love better than a fresh, flavorful meal delivered straight to their door.
That's why HoneyBaked--makers of authentic, spiral-sliced and glazed ham for three generations--is the perfect solution to your gifting needs. And with a variety of delicious products in addition to their famous hams, from tasty appetizers to juicy turkeys to decadent deserts, there's something for everyone on your list.
Let's take a look at a few items sure to be highlights on anyone's dining room table this holiday season.
Sweet Potato Puffs

Perfect for Holiday cocktail parties or passed hors d'oeuvres as guests wait for the main meal, this elegant treat is sure to be a hit at any gathering. The buttery flavor of sweet potato blends with brown sugar, spicy cinnamon, nutmeg and crushed pecans. It's then folded in a delicate puff pastry and dusted with praline crumbles. Click here to order.
The Whole Roasted Turkey Feast

If you can't be with them for the Holidays, the next best option is to ensure that your family or friends get together over a delicious meal in their own home. Luckily, good food has a way of bringing people together. Perfect for Thanksgiving, Christmas Dinner and other special occasions, this gourmet feast includes a HoneyBaked juicy Whole Roasted Turkey, old-fashioned Cornbread Dressing, wholesome Sweet Potato Soufflé and classic Pecan Pie. Once it's out of the gift box, all your recipient has to do is heat, serve and enjoy. Click here to order.
Apple-Cranberry Stuffed Pork Loin

What's better than pork loin? A pork loin stuffed with tangy apples and ripe cranberries, not to mention fully cooked and pre-sliced for simple serving. The perfect side dish pairing for any Holiday meal or a tasty appetizer for an elegant, old-fashioned cocktail party. Click here to order.
Tuxedo Mousse Cake

Forget the gifts under the tree, the real Holiday treat is HoneyBaked's Tuxedo Mousse Cake. Complementary flavors of creamy white and dark chocolate mousse are layered in with moist chocolate cake. Pre-sliced means serving easy, but your gift recipient is on his or her own when their guests start asking for the recipe! Click here to order.
Beef Wellington

Butter! Brandy! Pastries! Oh My! This highest quality tenderloin is wrapped in a savory layer of mushrooms and onions that have been--you guessed it--sautéed in brandy and butter. Finished with a light, flaky puff pastry that's baked until golden brown. Trust us, the folks on your Christmas list will toast you long after this dish is gone. Click here to order.
The Honey Baked Ham® & Pecan Pie

You can't go wrong with gifting the most classic of Holiday meals: The Honey Baked Ham®. Opt for this entire meal and your friends will not only enjoy a handcrafted individually glazed Honey Baked Ham®, but they'll top dinner off with a buttery-sweet Pecan Pie. It's a can't miss gift choice for friends and neighbors or a welcome surprise for your own family. Click here to order.
For more great gifting ideas for this Holiday season and other delicious HoneyBaked favorites, visit HoneyBakedOnline.com. And, if you can't decide what to order, let your friends pick their favortie HoneyBaked item by sending them a Gift Card.