50/50
Joseph Gordon-Levitt stars in the cancer comedy of the year, as a man in his mid-20's struggling with a terrible disease. Co-stars Seth Rogen and Anjelica Houston. In theaters everywhere, read our review and watch the trailer
What's Your Number?
Anna Faris stars as a woman who tracks down 20 men she's "dated"? (wink-wink), in hopes of seeing if Mr. Right has slipped through her fingers. As luck would have it, Chris Evans is willing to help. In theaters everywhere, read our review and watch the trailer
Courageous
Four cops struggle to balance the demands of their jobs and life at home as fathers. In theaters everywhere, watch the trailer
Dream House
Daniel Craig and Rachel Weisz star as a couple with two daughters who move into a beautiful old house in need of some work--or maybe Craig has just gone insane after killing his family. Co-starring Naomi Watts and directed by Jim Sheridan. In theaters everywhere, watch the trailer
Trailer: "Take Shelter"
Take Shelter
Michael Shannon stars as a man haunted by visions of a coming storm, a nightmare that drives him to build a shelter in his backyard, an obsession that starts to drive people away. Co-stars Jessica Chastain, Winner of the Critics Prize at Cannes this year. In limited release, read our review and watch the trailer
Tucker & Dale vs. Evil
A huge hit Sundance, this horror-comedy tells the story of two good old boys trying to enjoy a relaxing weekend in their cabin who find themselves under siege from a posse of uber obnoxious yuppies. Stars Tyler Labine, Alan Tudyk and Katrina Bowden. In limited release, watch the trailer
Margaret
Ann Paquin stars as a teenage girl wracked by guilt over the part she plays in a fatal bus accident in writer-director Kenneth Lonergan's long-awaited film. Co-stars Mark Ruffalo and Matt Damon. In limited release, watch the trailer
"What's Your Number?"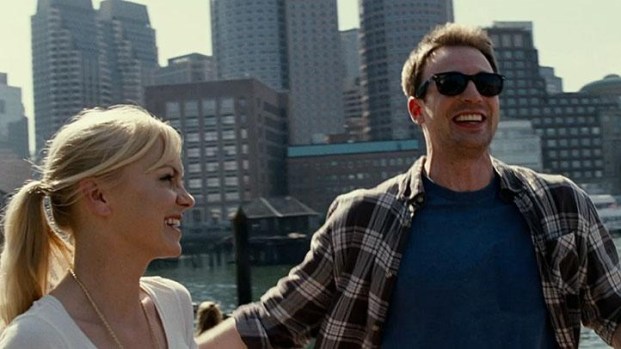 Sarah Palin - You Betcha!
Documentarian Nick Broomfield heads off to Wasilla, Alaska, in search of the truth about Sarah Palin. In limited release, watch the trailer
Munger Road
A group of local 20-somehtings arm themselves with a video camera and baby powder in search of the notorious demons that are said to haunt the scary road in town. In limited release, watch the trailer
My Joy
A Wrong turn sends a truck driver into the heart of the Russian underworld in this "mischievous, ultra-nihilistic parable of post-Communist Russia." In limited release, watch the trailer

American Teacher
In a time when teachers are coming under fire from seemingly every corner, Matt Damon narrates this documentary that allows the professionals talk about the realities of their job. In limited release, watch the trailer