Natalie Pasquarella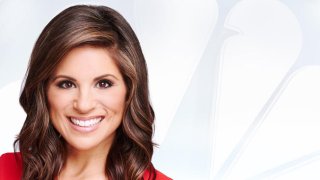 Natalie Pasquarella anchors NBC 4 New York's 4 p.m., 6 p.m. and 11 p.m. daily newscasts. She also contributes to I-Team investigations throughout the Tri-State area.
Throughout her time at NBC 4 New York, Pasquarella has offered to an array of memorable stories. In 2015, she covered Pope Francis visit to New York City and one year later, played a central role in NBC 4 New York's coverage of the 2016 election. In addition to co-anchoring the station's coverage on election night, Pasquarella co-anchored station coverage from the 2016 Presidential Debate at Hofstra University and the 2017 Presidential Inauguration in Washington, D.C. She also travelled to London to cover the 2018 Royal Wedding of Prince Harry to Meghan Markle.
In recognition of her commitment to journalistic excellence, Pasquarella has been awarded four New York Emmys® as part of NBC 4 New York's team coverage of the 2016 Dallas Police attacks, the 2016 Hoboken rail crash and the 2017 Bronx Lebanon Hospital shooting.
Pasquarella joined NBC 4 from WSOC-TV in Charlotte, North Carolina, where she was a co-anchor for the weekday 5:30 and 10 p.m. newscasts. Pasquarella began her career in her hometown of Steubenville, Ohio as a news anchor, reporter and producer at WTOV-TV. Pasquarella, a graduate of Kent State University, interned at NY1 News in New York City.
While at WSOC, Pasquarella produced several in-depth investigative stories on the rise in human trafficking and the use of black-tar heroin. The West Virginia Associated Press honored Pasquarella for an investigative report on sex offenders voting in public schools.
In 2011, Pasquarella traveled to Washington, D.C. to interview President Barack Obama on local-international trade issues. The following year, Pasquarella co-anchored live political coverage of the Democratic National Convention held in Charlotte, North Carolina.
One of Pasquarella's favorite quotes to live by is from Winston Churchill, who said, "We make a living by what we get, but we make a life by what we give." Pasquarella, who was very involved in the Charlotte community, served on the board of "A Child's Place," an organization that worked to ease the impact of homelessness on children in schools. She also supported the American Red Cross, Communities in Schools and Classroom Central. Here in New York, she has worked to support Tri-State food banks and food pantries, Tri-State Boys and Girls clubs and the March of Dimes.
The oldest of four children, Pasquarella loves spending time with her family and enjoys travel, the theater and baseball. She is married and resides with her husband and son in Bergen County.