Harlem Churches See Gospel Tourist Boom on Sundays
The popularity of these gospel churches with tourists is causing friction with the faithful parishioners, who now face growing crowds.
Sunday, Mar 11, 2012 | Updated 5:06 PM EDT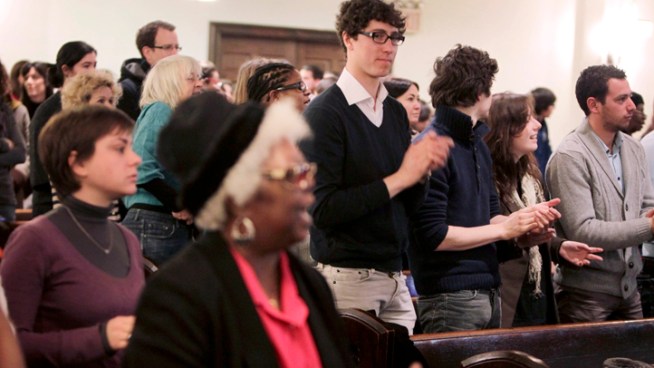 AP
Tourists, mostly from Europe, outnumber congregants during a worship service at the Mother AME Zion Church in New York, Sunday, Feb. 26, 2012.
"Gospel tourists" are descending upon Harlem churches en masse, causing friction with the faithful.
The neighborhood's churches have become popular tourist attractions for visitors from all over the world who want to listen to soulful gospel music at a black church service. The growing crowds are causing some problems.
To preserve the sanctity of the service, pastors are struggling to enforce strict rules of conduct. At Mother African Methodist Episcopal Zion Church, the oldest black church in the state of New York, visitors are not allowed to take photos or leave during the sermon. But some people ignore the rules.
The visitors are filling church pews that would otherwise remain empty. They're also helping to keep the churches afloat financially.