Comptroller OK's $3.1B Tappan Zee Bridge Contract
Friday, Jan 18, 2013 | Updated 4:45 PM EDT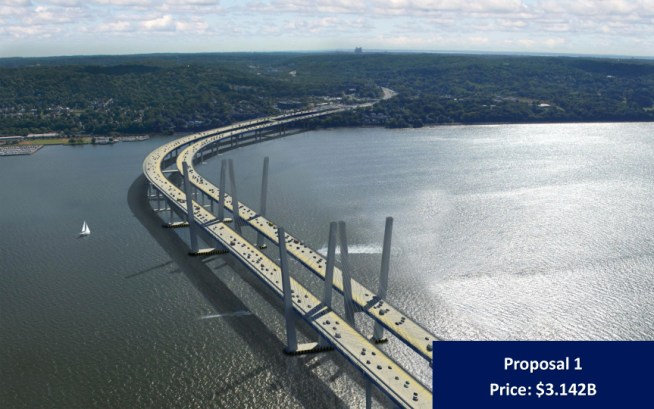 AP
In this artist rendering provided by the New York State Thruway Authority, Proposal 1, an artist's conception of one of three designs that will replace the Tappan Zee Bridge over the Hudson River in New York is shown.
New York Comptroller Thomas DiNapoli has approved a $3.14 billion contract between the state Thruway Authority and Tappan Zee Constructors to design and build the new bridge across the lower Hudson River.
DiNapoli says replacing the aging Tappan Zee Bridge is "vital" to the state's economic prosperity, but notes this approval does not extend to any toll increase or debt issuance.
The 66-month contract with a joint venture of Fluor Enterprises, Inc., American Bridge Co., Granite Construction Northeast and Traylor Bros. takes effect immediately.
The Thruway Authority received three bids.
State officials have been seeking a $2.9 billion federal loan.
Tolls for the heavily used commuter bridge between Westchester and Rockland counties are expected to nearly triple from the current $5.