Queens Playground Dedicated to Sandy Hook Victim
Monday, Dec 23, 2013 | Updated 10:26 AM EDT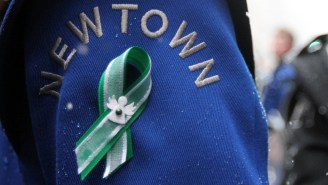 AP
A green and white ribbon, the colors of Sandy Hook Elementary School in Newtown, Conn., is seen on the uniform of a Newtown High School Marching Band member after marching in the St. Patrick's Day Parade on March 16 in New York.
A new playground in Breezy Point has been dedicated to the memory of a school psychologist killed in the elementary school massacre in Newtown, Conn.
Mary Sherlach's husband and two adult daughters were on hand Sunday to cut a yellow ribbon for the ceremonial opening of the jungle gym, which sits on a sandy beach by Jamaica Bay.
The Daily News reports that the playground is one of 16 being built by a nonprofit group called The Sandy Ground Project.
It is naming each of the playgrounds after a victim of the tragedy.
Bill Sherlach says his family is "trying to stay positive" and carry on in Mary's work with children.