entertainment news
The Taste of Victory: Olympic Snowboarder Sage Kotsenburg to Get Medal Made out of Bacon
Round slabs of wood-smoked turkey bacon to honor golden Sage Kotsenburg.
Wednesday, Feb 19, 2014 • Updated 11:33 AM EDT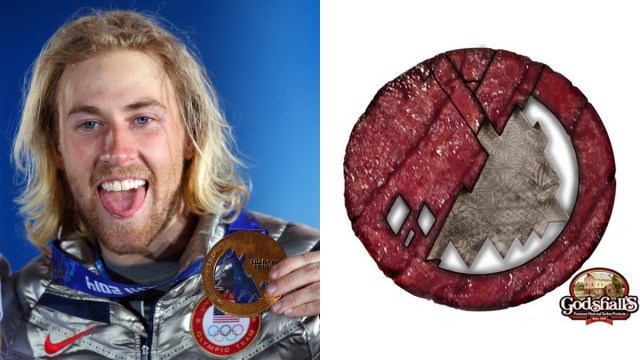 "For athletes like Mr. Kotsenburg, it offers a high protein alternative to pork bacon with all the flavor and is 94 percent fat free," the company said in a statement to NBC Sports.
What is sweeter than the taste of victory? Bacon, apparently.
American snowboarder Sage Kotsenburg beat out favorites in the slopestyle competition to win the first gold medal of the 2014 Winter Games.
Shortly after his victory, the 20-year-old from Idaho said on Twitter that he was not completely satisfied with his gold. The Olympian said that he wished the "Sochi medals were made out of bacon."
He also tweeted that one of the first things he would do when he returned to America was eat some bacon, and shared a photo of bacon in a bowl.
Even NBC's Winter Olympics Twitter account joined in on the fun, tweeting a photo of Kotsenburg holding a bacon-shaped medal.
However, a Pennsylvania-based meat company made the mock Twitter photo a culinary reality. Godshall's Quality Meats announced on their Facebook page that they created bacon medals for Kotsenburg.
The company confirmed to NBC Sports that it will soon send cooked and uncooked medals made out of round slabs of their wood-smoked turkey bacon to Kotsenburg.
"For athletes like Mr. Kotsenburg, it offers a high protein alternative to pork bacon with all the flavor and is 94 percent fat free," the company said in a statement, according to NBC Sports. "It is also allergen free, gluten free, and has no MSG."
See the whole exchange below:
Ahh I wish the Sochi medals were made out of bacon thoooo..!!

— sage kotsenburg (@sagekotsenburg) February 10, 2014
We made this for you. RT @sagekotsenburg: Ahh I wish the Sochi medals were made out of bacon thoooo..!! pic.twitter.com/yKwqvZrVnP

— NBC Olympics (@NBCOlympics) February 10, 2014
"@ChrsGrenier: Back in USA. First thing to do...Eat bacon." YES!! Me too!

— sage kotsenburg (@sagekotsenburg) February 11, 2014
������ breakfast pic.twitter.com/vpeRuJyNv1

— sage kotsenburg (@sagekotsenburg) February 12, 2014