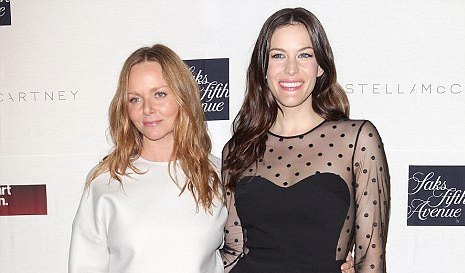 Courtesy of Saks Fifth Avenue
Stella McCartney has had quite the week. Monday evening she co-hosted the Metropolitan Museum's annual Costume Institute Gala honoring Alexander McQueen (not to mention dressing Madonna and Rihanna among others for the event) and last night she headed to Saks Fifth Avenue to debut her new in-store boutique along with Liv Tyler, who played host for the evening.
The Stella McCartney brand, under the Gucci Group umbrella, now includes lingerie, children's clothes and organic skincare—along of course with a ready-to-wear line. McCartney is also collaborating with Addidas on sportswear for the British Olympic teams and with Disney on a line of jewelry. Because of her stand against using fur and leather McCartney has become somewhat of an icon in the eco-fashion movement. Not bad for the daughter of a Beattle who was criticized in the early part of her career for finding success based on nepotism.
McCartney told us of her early days, "I started off really making stuff I wanted to wear and couldn't find. I was really naïve when I started, and had a lot to learn."
On being an eco-fashion star McCartney says, "Eco-friendly fashion is something I've always felt strongly about. You have to create demand so the customer base will grow. We've been doing organic for years in my own collection, in my lingerie and with the Adidas collaboration. We touch on it across the board. I think it's a bit more sincere to do that. It's part and parcel for us as a brand."
As for the inspiration for her spring 2011 collection that has already inspired knockoffs from Zara to H&M, McCartney says, "I wanted to add a punch of color in the collection, and I think doing it in a really bold citrus print gives it a slight sense of humor. I also wanted it to be really easy to wear and just to have a feeling of summer and of being free."
Despite her rapid growth, McCartney, who employs a relatively small team in London, and has a press office in New York says, "I still know everyone I work with. That's important to me."